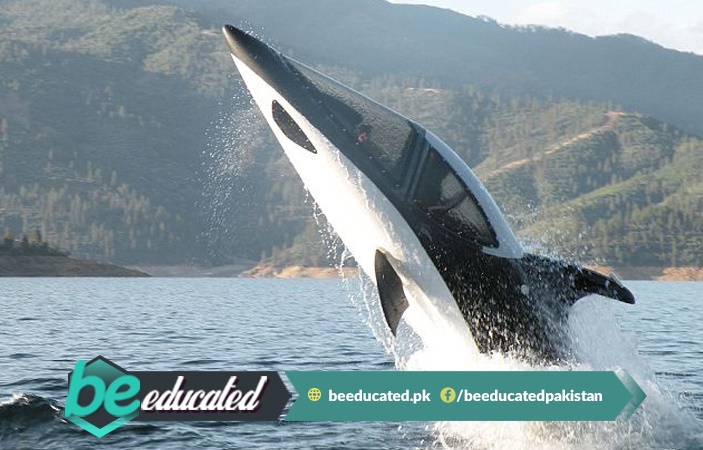 People get amazed after looking at the submerging power boat that resembles a whale. According to news reports, an American company made this boat that can be customized to any design and colour you want. The boat comes with an internal sound system that allows you play music along with a navigation system to know where you are going while riding it.

Seabreacher Can Dive Underwater and Jump into the Air

This submerging boat Seabreacher can submerge underwater which makes it very unique, unlike any other product out there. Also, the boat is controlled like an airplane that can even jump 33 feet into the air.

Its manufacturing company has worked over ten year to build this amazing watercraft. BeEducated.pk found out that the Seabreacher has different models, which are:
Shark style (X Model)
Killer Whale (Y Model)
Dolphin style (Z Model)
The boat is made in such a way that whenever someone's riding it, they have an almost 360 degree view of the surroundings.
All these models are used for recreational purposes, so people can have fun by diving at most 5-6 feet underwater and riding it at a high speed. This sports boat has an engine of 230 to 250 horse power that enables it to reach the speed of 80 km/h above surface and 40 km per hour underwater.

The Revolutionary Boat Costs more than a Crore

According to Jang News, the submerging boat is quite expensive as it costs around PKR 1 Crore. But that's only because it is customized as per a customer's wishes. If the boat starts getting manufactured in bulk at better facilities then the cost can come down. But for now, most recreational businesses along the coast line of America are trying to get their hands on this wonderful submerging power boat.

Recently, we posted about a flying car Black Fly and now this boat is another amazing vehicle that resembles a living thing.

Jet Skiing and other relative boating adventures are available in Pakistan. But Seabreacher has not hit the waters in the country. Hopefully, an adventure sports company or recreational water park will buy this boat and let people ride this wonderful and amazing creation. For more interesting news keep visiting our website frequently.
Related News
---