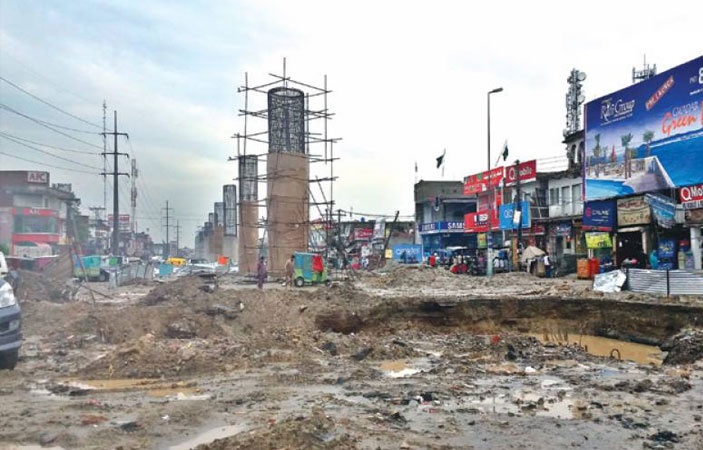 It seem like the construction will only end up after the government will be prohibited from gearing up influencing personal benefits from their seats, or might never end. First Metro and now, orange line is legging up the dust in the air and oxygen.

According to Lahore High Court (LHC), construction of multi-billion dollar project is suspended. The orange line was sighted to pass through 11 heritage areas within the city while results can be seen with dump and flushing roads while juggling traffic on both sides of roads.

From the last five years, I'm a continuous victim of this massive destructive construction. I don't know what our government personal means are involved but let me tell you the real non-prescribed material behind the construction. Our government is just jamming their own accounts while scrolling stones after stones on streets and roads letting public await by passing with VIP protocols in luxurious cars while denying communal people to face rush on the name of development of country's roads.

Lahore is no more a green city, it is just changed into a haze city. It was once a city with green land but now all that greenery is lusciously taken away by such flyovers, pulls, doubling of roads and deserting haze.

People are becoming asthma patients, many are suffering from skin and eyes diseases and some are just passed away through certain accidents.
A bike rider without green masks seems as if he risking his life with no importance. People have become intolerable and impatient because of hustling and bustling on roads.

Almost every third road in Lahore has become swaying and dump. You are not safe unless you almost get hit by other. I don't understand why government is just manipulating towards the strategy of establishing roads and why not emphasizing on following the traffic rules and many other developmental projects related to education, technology, hospitals, libraries, unemployment and many more to enlist here, why only roads are being accommodating since 2012, why not other issues! Billion and trillions of rupees are just demolished on patching of roads while rumoring to convert "Pakistan into Paris".

It cannot be converted into Paris unless our government plunge out all cataloged fungy-people in many government and private sectors. Despite government, the road contractors are one hand forward on inserting tenuous material which wouldn't run for long period.

People and children are being introducing to new ailments created through the secretion of such roads.

From this mischievous stimulating process, our government should take a backup for these long gig projects of construction but after binding their junk projects of construction and should start working on some useful operation for which they could also get regard, even after their tenure.
Related Article
---