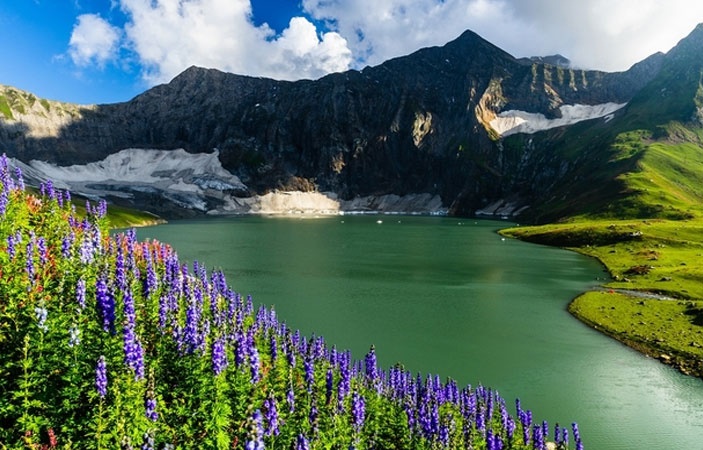 We all know that the beauty of Kashmir is indescribable even I can't describe its relishing beauty in just a piece of writing. Because Kashmir beauty commence more worth over embellishing words.

Some majestic feelings comes within you that proves coolness and freshness for your eyes. This place is worth seeing in summer as green velvet plateaus lush with cold breeze, while in winter the snowy white paths could be glimpsed by eyes as far as it could be reached. Undoubtedly, this place admires love for nature lovers.

The journey claims interesting as you proceeds towards the mountainous roads. On the way toward Muzaffarabad that is almost three and a half our away from Islamabad which is enroot towards Kashmir's way is a relishing beauty of landscape.

Here you can also go for optional 4wd car or vehicle which is best and comfortable to roam on mountainous roads. On a way Pir Chanasi, mountain peak which has gained a lot of fame for its ziarat of Pir comes, that is about 9,593 feet above the sea level, is an hour distance away from Muzaffarahbad.

What I have endure is that the journey is more beautiful with your loved ones and enjoying the same feeling with your friends and family is far then explaining and awe-inspiring. You see chasm been flowing and especially in day light it seems as every drop is sparkling in the chasm when sun is showering rays in direct contact with it, the view prescribed as a feast for eyes.

Keran is another destination towards Kashmir which is a life beauty. It is also a tourist resort of AJK that is almost three-hour drive from city. Keran is a position from where you can clearly see another Kashmir territory which is hold by India.

In between these two Kashmir territories a beautiful river Neelum flow with gushing sound that is synthesized as a melodious sound. The saddest part is that many of the families living in Kashmir are parted due to separation of distribution of Kashime at the time of Independence. Because such families are not allowed to meet each other due to Line of Control (LOC) that separates Pakistani Kashmir and Indian occupied Kashmir.

The view of Kashmir is too much soothing as we assemble ourselves, if we are present in paradise on earth's face. The silence on this place makes you talkative through inner satisfaction because this place provides you harmony and peace letting you away from stress and tensions of noisy world.

Seriously, the feeling on such place cannot be described in any zeal words. Once you get on this place you would not want to go back to noisy world again. Because as much as you will explore its beauty it will indebt your thirst more for exploring its beauty.
Related Article
---