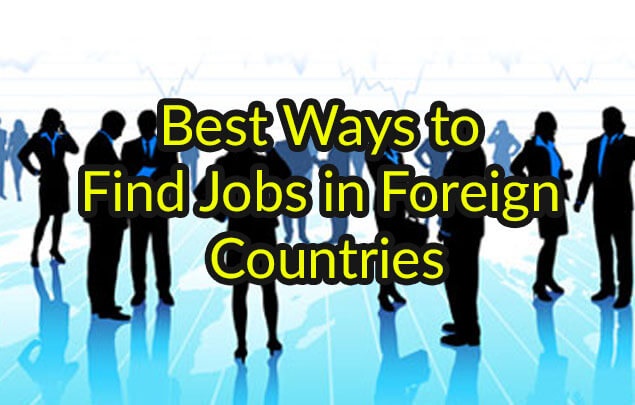 Everybody thinks of working at a company that offers the optimum salary, medical insurance, and other benefits. But it's not been easy to get such work opportunities and this is why people are trying to get jobs in foreign countries. You should also try your best to pursue better things in life. As many people have already acted upon this advice and learnt how to get jobs abroad. You will be amazed at how much you can achieve personally and professionally as you work overseas.
Looking for Overseas Employment
Using our job portal you can look for all the foreign work opportunities available in Pakistan. People have been buying and reading newspapers on daily basis in order to find foreign jobs. We have been adding local vacancies within the respective dailies' section. However, now you can look for jobs in foreign countries using our platform. You can look for latest overseas jobs in different departments and fields. We make sure to scan and upload openings in the sector of Information Technology, Management & Executive, Marketing and Sales, Pharmacist & Chemical among many other. You can explore our website for more in-depth details.
Are Newspapers the Best Source for Job Hunting?
Over time the dailies have proved to be the most reliable source to look for local and overseas employment. Now, however, people tend to look for work opportunities online as there are many job portals on the web that have helped a huge number of individuals including Pakistanis to get jobs in Dubai, USA, UK and various other foreign countries. Therefore you can safely say that looking for work openings domestically and internationally is totally possible both ways. You can either buy dailies or just google jobs on different employment portals that contain postings from newspapers, its one and the same thing.

What mostly happens is that companies, all over the world, trust and prefer highly read newspapers to post their vacancy advertisements in any country. Online portals only reach people that have access to internet at all times. For example, if you live in a northern area and your net connection isn't that stable then you will also prefer to check out dailies and magazines to find jobs in foreign countries. Will you not?
Thus, if you want to pursue a career abroad then you must never give up any chances, which leads us to the following heading.

Career Related Work or Part Time Work
Whenever applying for international jobs, you must remember that they should be according to your qualifications and work experience, otherwise it will be impossible to catch any employer's attention. However, part time work can be found once you have entered the desired country, where you want to establish your career. Why would you want to do that? The answer is quite simple, if you can find a part time international jobs then you get the chance to make it into a proper career down the road. Finally, remember to work hard no matter where you are working, because it will definitely bring you success sooner or later.
Related Article
---