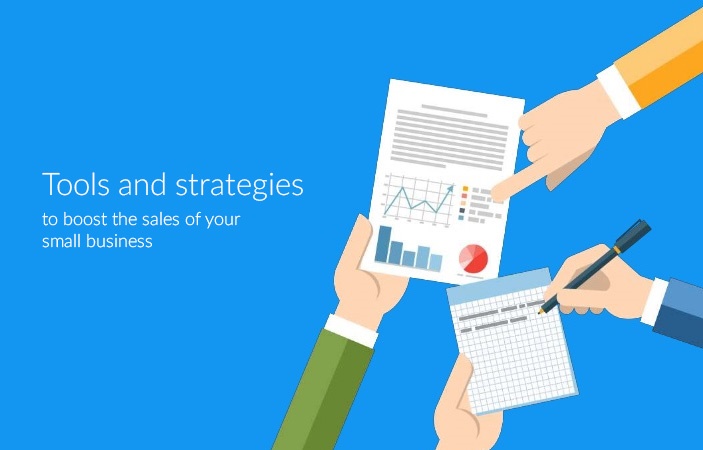 Do you want to keep yourself more efficiency? Agree to focus on the important tasks of your business? Wanted to make more sales? Don't want to waste money on ads? Do you want to get people to purchase your product or service? Keep one thing in mind that sales do validate a business. You need to consider the below mentioned best tools and strategies to boost the sales of your small business.

Tools;
Slack is the up-to-date tool to communicate with your coworkers. Say goodbye to the group messages, unlimited notifications, and misplaced messages that are especially heading for at you. This communication tool offers many core functionalities to the small business owners, for example, file-sharing, phone calls, and message search.
Are you looking for the functionality palette? Then you should give a try to GSuite. This tool is best for that business who deals in the online business. You can purchase a domain, set-up an email client, track analytics for their website, launching and management of ad campaigns, and many more things with this app. The best thing about GSuite, it is also low cost. A good platform to keep all of your business needs in one place with ease of mind.

If you want to work independently? Then you should consider the option of Upwork. It helps you to earn money as a freelancer business owners. You can provide your services as a web developer, graphic designers, social media manager, and writer, etc. Additionally, this app is best for hiring the freelancer worker at low rates.
Are you running a website-based company? Are you facing communication absence with customers? Are you struggling hard to understand the consumer's decisions and problems? Then you should download the Intercom to facilities your customers properly and give him a good user experience. This tool is best for the live chat, easier interaction engagement and communicate with your customers.
Strategies
;
Include engaging, unique and valuable video content to engage your audience. Additionally, you should do it on social media sites, pages and use it for a marketing campaign.
Say yes to the word of mouth;
For lead generation, you should rely on word of mouth. Customer's referrals can explain your business to their friends, family or colleagues in a better way. Furthermore, referrals customers will trust you and always open to listen, communicate and checking out your business.
Don't forget to request your customers to refer you if you don't want to invest the money on advertising methods. Don't forget to establish a good relationship with the referred customers.
Rely on offline marketing;
Online marketing strategies have its importance, but on the other hand, offline marketing is still working best for boosting the sales of the small business. You should advertise your small business in local newspapers, advertise your products and services on various radio stations. I know its old but unique way to capture your target audience.
Keep one thing in your mind that tools and little strategies can help you to retain your loyal and well-paid customers.
Related Article
---