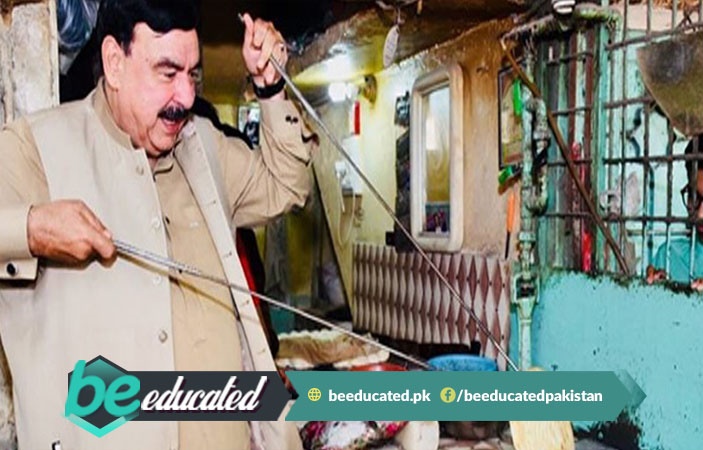 Pakistan Election 2018 are coming and candidates are taking unique steps during election campaign in order to gain votes. In such cases, Sheikh Rasheed Ahmed, head of the Awami-Muslim League, tried to impress the masses by making roti in tandoor.

Rawalpindi's constituents NA 60 and 62, Sheikh Rasheed Ahmed, visited the Satellite Town for the election campaign. While he was touring the market he reached at a tandoor. A person asked, "What can you do to get my vote?" The head of the PML-N responded, 'You have come to take the Roti, I will make the voter a 'roti' (round bread) and started making roti himself at a 'tandoor', saying he will give the voter a roti made from his own hands. After which Sheikh Rashid baked the roti's for himself and the voters, and the video of this event is viral on Twitter.



Sheikh Rasheed described this style as 'Awami andaz' and wrote a caption while sharing the video, 'I have always liked living in a common people with them.'

On June 24, the AML chief had a tour of his district on a motorcycle. While speaking to media, he said that he is thinking of replacing his party symbol from the current pen and a bottle of ink to a motorcycle.

Rasheed further expressed confidence that he will get a 'record' of votes from both his Rawalpindi seats (NA-60 and NA-62).

Other candidates who took different styles to gain votes

Pakistan Tehreek-e-Insaf (PTI) leader Arif Alvi rode a rickshaw in Karachi to impress the voters. While sharing his photos on social media he said "I definitely enjoyed driving the rickshaw for about an hour in the rally until my team forced me to get on the truck to be more visible. Sadly they took all the fun away." Arif Alvi is the candidate of PTI for the NA-247 (Karachi).

BeEducated.pk wants you to know that the general elections are going to be held on July 25, for which political parties and candidates are doing election campaign in order to gain votes.
Related News
---