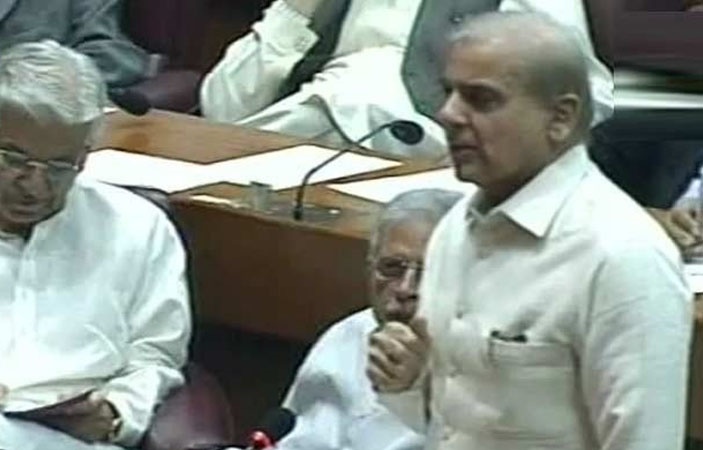 The opposition leader in National Assembly, Shahbaz Sharif have said that initially the government, which talked about the poverty ravaging the nation, has presented an outrageous mini budget today.

While discussing the new budget in Parliament, leader of opposition Shahbaz Sharif reminded assembly members that before the election, the PTI leadership had said that they have the best team that will work day in and out to solve the problems of the people and if they have to then they will also use their personal assets for public welfare.
Leadership is Appointing their Friends at High Posts
The opposition leader said that the public was promised unrealistic goals, slogans were raised to bring change, the masses were fooled by claiming that we will not take protocol and maintain a simple lifestyle, but today we are observing that personal friends and imported advisers are everywhere, as friends of PTI leaders are being awarded with important posts in the government.

Read More: Shahbaz Sharif Rejects Governments Increase in Gas Prices

Increase in Gas Prices Means Increase in Inflation
BeEducated.pk wants you to know Shahbaz Sharif said that PTI claimed poverty of the people was overwhelming, however today their government has dropped a bomb in the form of the new mini budget on those poor people.

He said that in the new budget, 183 billion worth of taxes are imposed. Also, the gas rates had been raised for the middle class due to which the lower class such as farmers will be affected and inflation will increase drastically as well.

Shahbaz Sharif informed that with 57 percent of increase in gas prices, the cost of electricity will rise as well. He said that Asad Umer is an educated Minister of Finance but we did not expect that he will introduce a budget that will be against people's well-being.

Opposition leader also said that you can impose more taxes on the elite class and everyone will be fine but if you ask the poor to pay so many taxes then it will be an act of cruelty towards them and their children.
Current Government Came into Power with Inside Rigging
The opposition leader said that the entire nation knows that this government did not come into power through votes, but the present government is the result of election rigging. He said that the decision to set up a committee to investigate the rigging in the general elections is a good thing. Now he hopes that the special committee will timely complete its work and present the report in the Assembly, so that the facts regarding election results will be revealed to the public.

Also read: Nawaz Sharif sends a Message to Asif Ali Zardari asking for Help

He then added that we have not come here to just talk about the general election results of 2018, but we are in the senate for the promotion and stability of democracy in Pakistan.
Chinese Foreign Minister Was Treated Poorly
Shahbaz Sharif said that CPEC is very important for the 22 million people living in the country and it is a bridge between Pakistan and China, it is not only a golden opportunity for economic growth in Pakistan but the whole region, still the Chinese foreign minister's was greeted poorly on his arrival to Pakistan. Did we have to take such attitude that can put a strain on Pak-China friendship?

This government's attitude towards the issues related to the CPEC are controversial, and they will not let this Senate, CPEC and country's people succeed in any way.
Gas Prices Did not Increase in 5 year's Tenure of PML-N
Shahbaz Sharif said that in 2013, when we formed the government, we had to face major challenges like terrorism and load shedding, but we were able to solve them with the people's support. We made 5000 MW power projects under the leadership of Nawaz Sharif, the largest package of agriculture was provided by our government, we gave billions of rupees in packages to the public in the fields of health, education and forensic labs, and PML-N government did not raise a single rupee in gas prices for the period of 5 years.

More News: PM Imran Khan Heads the Meeting of Council of Common Interests

On the other hand, Finance Minister Asad Umar has rejected the opposition's objections and said that we have put taxes on the rich and not the poor. He also said that the government has been formed only a month ago, so let's just wait and see what happens. For more political news keep visiting BeEducated.pk.
Related News
---