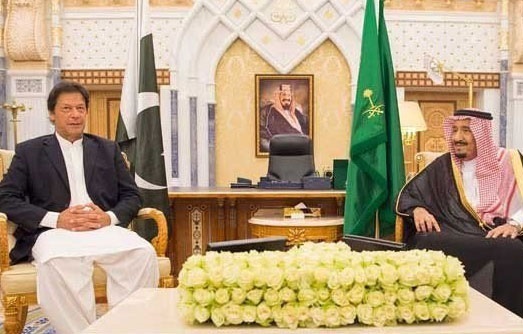 Saudi Arabia has offered a 6 billion dollars package to help Pakistan out of its financial crisis.
PM Imran Khan's Second Visit to Saudi Arabia
On his second visit to the Saudi Arab, PM Imran Khan met with King Salman Shah Abdul Aziz along with Pakistan's Foreign Minister Shah Mehmood Qureshi, Finance Minister Asad Umar, Minister of Trade Abdul Razak Dawood, Minister Information Chaudhary Fawad, Minister of State and Ambassador to Kingdom of Saudi Arabia.

Read More: CM Balochistan Inaugurates Naya Pakistan Housing Scheme


During their meeting, many important matter were discussed regarding the bilateral issues of the two countries, domestic and international political matters, working together to increase bilateral co-operation and other matters of mutual interest.
3 Billion Dollars in Oil imports, Remaining in Monetary Relief
BeEducated.pk wants you to know that, after the meeting, Pakistan foreign office released a memorandum, signed by both country's finance ministers, which said KSA will deposit $3 billion with Pakistan as balance of payment support and the remaining package will be given in the form of oil imports with a one year deferred payment facility.

Finance Minister Asad Umar said in a statement that this arrangement will be in place for three years after which it may be reviewed for further changes.
Imran Khan Reluctant to Ask IMF for Bailout
Even though earlier news reports said that the Prime Minister might be seeking help from the International Monetary Fund (IMF), however he has shown reluctance to ask IMF for another bailout. As the country's economy is already in crisis, and the Pakistani Rupee has gotten devalued various times since the new government came into power.

More News: PM hopes for 1 lac jobs agreement with Qatar to get implemented soon

A source said that the Saudi relief package will help the country negotiate a smaller loan facility than the IMF with less burdening conditions for Pakistan's economy.

Lastly, keep visiting our website as much as possible to get latest news on politics and internal and external affairs of Pakistan.
Related News
---