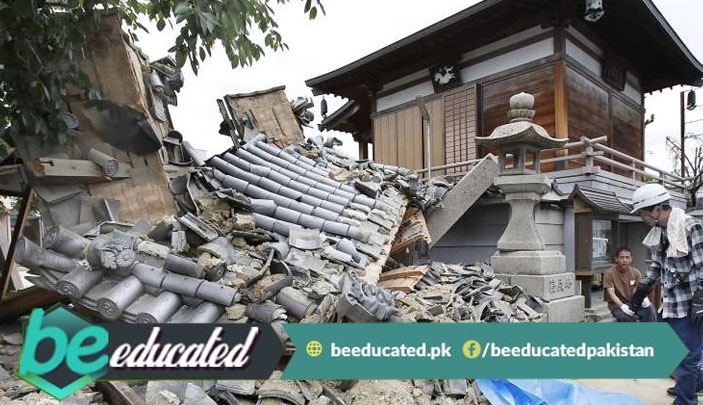 On Monday morning, Osaka prefecture shook with a 6.1 magnitude earthquake around 8 am. According to news reports, three dead bodies have been retrieved from the rubble and hundreds are seriously injured due to the destruction of buildings.

The Earthquake Started at the Depth of 13 Kilometers

Japan Meteorological Agency (JMA) told the media that the earthquake started before 8 am north of Osaka at the depth of approximately 13 kilometers. Even though the tremors were extreme in Osaka's northern region. However in western Japan— Kyoto, Shiga and Hyogo prefectures were also affected by the quake.

BeEducated.pk found out that among the deceased there is a 9 year old girl named Rina Miyake, an 85 year old Motochika Goto and an 80 years old woman. Various news reports said at least 250 people have been injured in Osaka, Kyoto, Shiga, Hyogo and Mie prefectures.

Director of Japan Meteorological Agency Mr. Toshiyuki Matsumori warned, at a news conference earlier on the morning of June 18, people to expect 6 earthquakes in western Japan over the next week. As it was the rush hour, many people were travelling from trains and buses that were affected by the tremors.

In various cities, twenty fires broke out in the result of the quake. Tokaido Shinkansen bullet train services were suspended in the affected areas, but they resumed operation after a few hours. However lots of local trains in Kyoto, Osaka, Nara and Hyogo have been stopped from operating.

Government Warns People of the Aftershocks

JMA has set out an alert for the aftershocks of the recent earthquake, while warning people about possibilities of land sliding in different areas. Due to which families are being transferred to a safe location from these affected areas.

According to local media the tremors were so intense that roads got cracked and water pipes burst, filling these cracks with water. Even electricity supply was cut off due to which people got stuck in elevators. Anyhow, emergency procedures were effectively carried out in hospitals and municipal institutions to provide relief to the injured people in the areas. For more news and updates keep on visiting our website regularly.

Related News
---