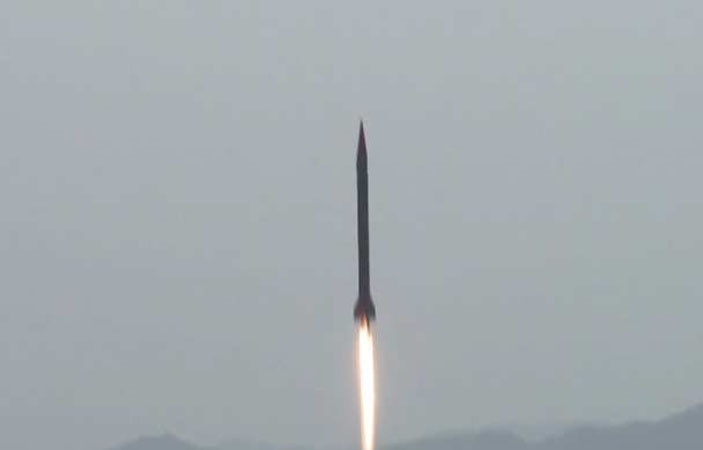 Pakistan has successfully conducted a nuclear-capable Ghauri Missile System test on Monday (8 October 2018).
Successful Test Launch of Ghauri Missile System
According to the Pak Army Department's Public Relations (ISPR), Pakistan has successfully launched a Ghauri missile for testing the system. The missile launch was conducted by the Army Strategic Forces Command (ASFC) and was aimed at observing operational and technical preparations of the Army Strategic Forces Command.

More News: COAS Qamar Bajwa Meets Chinese Army Chief to Discuss Regional Security


Commander ASFC, Lt Gen Mian Muhammad Bilal Hussain witnessed the missile test launch and appreciated the preparedness of the system. While for the occasion Chairman NESCOM Dr. Nabeel Hayat Malik and Chairman KRL Tahir Ikram were also present.
BeEducated.pk wants you to know that according to ISPR, the Ghauri ballistic missile is capable of carrying traditional and nuclear weapons up to a distance of 1300 km.
Scientists and Engineers Applauded for their Efforts
Prime Minister Imran Khan along with President Alvi applauded the successful test conduction. While Chairman Joint Chiefs of Staff and the Services Chiefs have also congratulated the engineers and scientists on their achievement.
For more news on domestic and international issues, keep visiting our platform on daily basis. Wait there's more! We have also started posting Urdu news for all the people who want to read news in Urdu language.

So, if you want to read news in Urdu any time in the future then:
Visit our website -> Go to the top right corner of our website page -> Click on the text: "اردو خبریں".
Related News
---