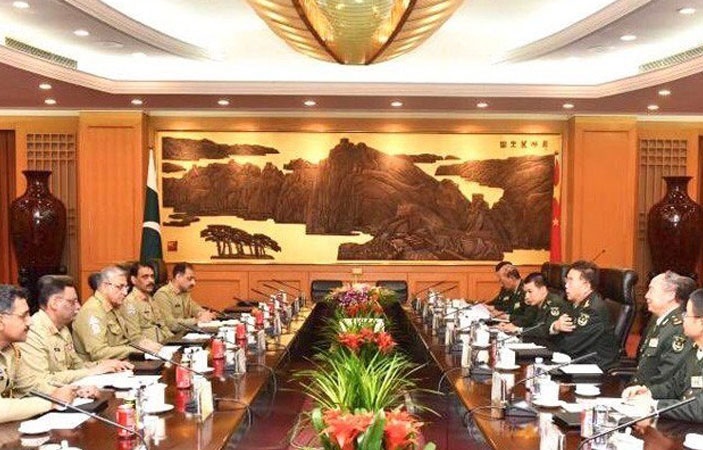 Army Chief General Qamar Bajwa met his counterpart in China and discussed regional security concerning CPEC and various other issues.
COAS Meets Chinese Military Chief
According to DG ISPR Major General Asif Ghafoor, the Army Chief General Qamar Javed Bajwa reached China last Sunday (September 16) for a three-day official visit. On 17 September 2018, he visited the headquarters of the Chinese 'People's Liberation Army' (PLA) in Beijing, where he was presented the guard of honour.


BeEducated.pk wants you to know that General Qamar Bajwa met his Chinese counterpart (the head of Chinese Military). During the meeting between the two Army chiefs the current situation of the region, Pak China Economic Corridor (CPEC) and bilateral security matters were discussed.

Also Read: CPEC Fiber Optic Project Completed

The Chinese Army Chief appreciated the Pakistan Army's operations against terrorists and the high-level security provided to CPEC projects. He also expressed the desire to utilize Pakistan Army's experiences and to further enhance cooperation between the two nations.
PM Imran Khan's First Official Tour to Saudi Arab
According to the Foreign Ministry's spokesperson, Prime Minister Imran Khan will leave for his official visit to Saudi Arabia and UAE on Tuesday (18 September 2018). PM is leaving for a 2 days trip on the invitation of Saudi King Shah Salman Abdulaziz and UAE's Crown Prince Wali Ahad Mohammad bin Zayed Al Nahyan.

According to the Foreign Office, during his stay the Prime Minister will have separate meetings with King Salman and Crown Prince Wali Ahad. He will also be meeting OIC Secretary General Dr. Yusuf Bin Ahmed. The Prime Minister will be accompanied by the Foreign Minister, Finance Minister and Advisor of Trade, who will meet their Saudi counterparts.

More News: PM Imran Khan Reveals Master Plan for Karachi

The spokesperson says that Saudi Arabia will give a banquet in the royal palace in the honor of the Prime Minister. He further revealed that PM Imran Khan will also visit the two great mosques and perform the Umrah.

The Foreign Office says, Prime Minister will arrive in the United Arab Emirates with his delegation, where UAE's Crown Prince Wali Ahad bin Zayed Al Nahyan will welcome the Prime Minister, as he has been invited by the crown prince to visit UAE. For more political news keep visiting BeEducated.pk.
Related News
---