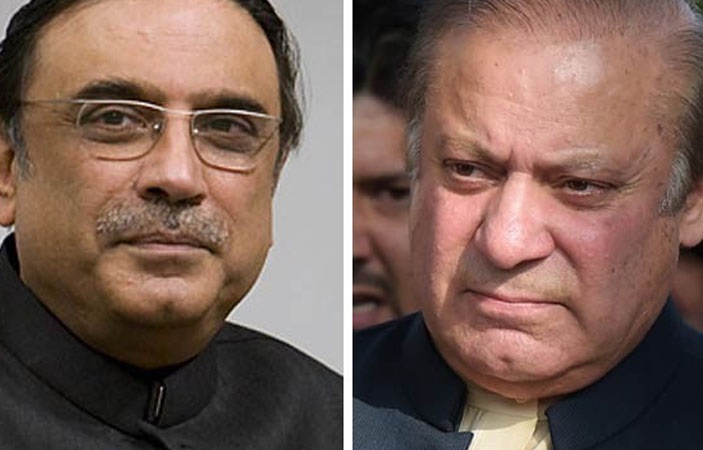 Former Prime Minister Nawaz Sharif has asked former President Asif Ali Zardari for help in giving the current PTI government a tough time, in and outside of the parliament.
Nawaz Sharif Asks for Help from Asif Zardari
According to news reports, the PML-N had made its mission to give a tough time to the government and (PML-N) Leader Nawaz Sharif has asked for help from PPP's co-chairman Asif Zardari.

Read More: Overseas Pakistanis Can Vote Online in By-Elections 2018


The PML-N contacted the PPP for the joint opposition, and in this regard, the delegation of PML-N headed by Raja Zafarul Haq had a meeting with PPP's leader Nayyar Hussain Bukhari to convey Nawaz Sharif's message and even requested to bring a joint candidate in the upcoming by-polls.

According to sources, Raja Zafarul Haq said that with the help of a joint strategy, the current government can be given a tough time. He also said that the PPP and PML (N) joint opposition can effectively raise voice against the government in and outside of the parliament.
Nayyar Bukhari Replies on PPP's Behalf
PPP leader Nayyar Hussain Bukhari responded to Raja Zafar ul Haq by saying that he will deliver PML-N's message to the other party members and an answer can only be provided after consultation with the party's leadership.

He further talked about the historic role of People's Party in strengthening and continuing democracy in the country and how PPP is currently playing a major role in parliament under the lead of Bilawal Bhutto.

More News: India Cancels Meeting with Foreign Minister Shah Mehmood Qureshi

Nayyar Bukhari said I will soon inform PML (N) about bringing joint candidates to the by-elections, while whoever was the runner-up in the previous elections, from either parties, should be the candidate for the upcoming by-elections.

On this occasion, Raja Zafar ul Haq said that we will increase talks between the PML-N and the PPP, while Shahbaz Sharif is coming to Islamabad on Sunday 23 September. He also talked about updating Mian Nawaz Sharif on the things discussed in their meeting with PPP leaders. For more political news keep visiting our website on daily basis.
Related News
---