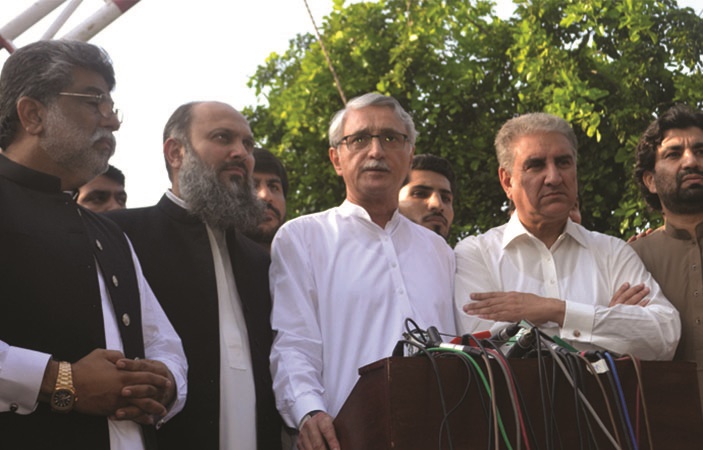 Pakistan Tehreek-e-Insaf and Balochistan Awami Party have agreed to form government in Balochistan.

According to Express News, the BAP delegation met Chairman Tehreek-e-Insaf Imran Khan in Bani Gala, where both the parties agreed to form the Federal and Balochistan government together.

Talking to the media after the meeting, Balochistan Public Party President Jam Kamal Khan said if BAP could work with anyone in the federal government for development of Balochistan, it is a PTI. He went on that we will form better Federal and Balochistan government with Tehreek-e-Insaf, as we also cooperated in the Senate elections with the successful party before.
BAP Proposed No Conditions to PTI on its Alliance
Jam Kamal said that we will work in the form of a team for the people of Balochistan and Pakistan, and together we will take steps to resolve Balochistan's problems. Also, we have announced the alliance with Pakistan Tehreek-e-Insaf without any conditions. He said that with the support of PTI, our party has gone assumed more than simple majority and we are taking back a good message to Baloschistan.
People came to know the initial outlook of new government through
Imran Khan's victory speech after 2018 elections
.
We Will Focus on Team Work in Forming Both Governments
On the other hand, Tehreek-e-Insaf leader Jahangir Tareen said I want to congratulate the nation that we have settled everything with BAP and we will focus on team work in forming Balochistan and the Federal governments. He added that we have had positive talks with Jam Kamal and we have agreed on all focal points with Balochistan Awami Party. In response to a question, he said that the BAP has the right to select Balochistan's Chief Minister from their party.
Some Forces Want to See Instability in Balochistan
Shah Mehmood Qureshi said that there are some forces who want to see instability in Balochistan, but we decided to walk together with BAP in Balochistan, while our new approach will be an important step for the development and prosperity of the province.
According to the sources, Vice Chairman of Pakistan Tehreek-e-Insaf Shah Mehmood Qureshi has not assumed any post in the center, Shah Mehmood Qureshi is hoping to become the chief minister of Punjab and wants to be interim Chief Minister Punjab until the state elections.
Shah Mehmood Qureshi Waiting for Captain's Orders
Sources say that even Shah Mehmood Qureshi's party could not convince him yet to assume any responsibilities, but he can be appointed to any ministry of his liking or become the Speaker of National Assembly.
Shah Mehmood Qureshi, on the other hand, says he will accept the final decision of PTI Chairman Imran Khan. For more
political news
and details keep visiting
BeEducated.pk
regularly.
Related News
---