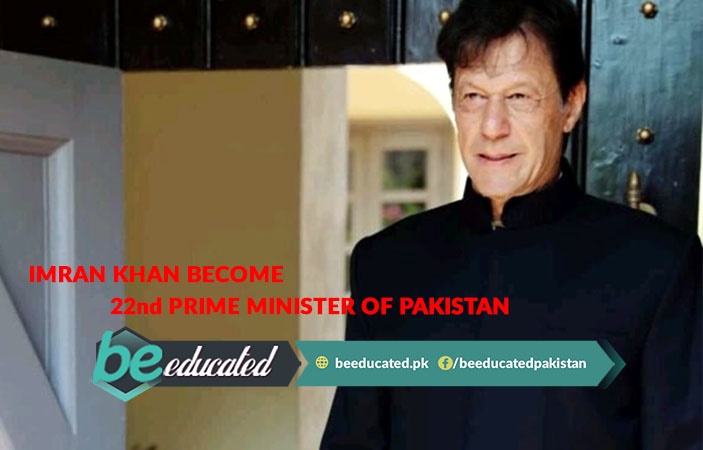 Pakistan Tehreek-e-Insaf Chairman Imran Khan has sworn his position as the 22nd Prime Minister of the country.

Prime Minister Imran Khan took oath for his post on Saturday morning (18 August) after 10 AM. The oath ceremony was held at the Prime Minister House, where President Mamnoon Hussain administered oath to Imran Khan.
After the oath ceremony, PM Imran Khan received the guard of honour from the three armed forces and then he was introduced to the Prime Minister's staff. After which Imran Khan arrived at the Prime Minister's office from the PM House, where he assumed his responsibilities and was given a briefing on state affairs.
Presence of Military and Political leadership
Leaders of all three armed forces and senior political leaders attended the oath taking ceremony of Prime Minister.
Special Appearance of First Lady
Imran Khan's wife and first lady Bushra Maneka also attended the oath-taking ceremony of Imran Khan.

Also Read: "Imran Khan Invites Bollywood Celebrities to Oath Ceremony"
Foreign guests
Former Indian cricketer Navjot Singh Sidhu especially come to Pakistan for the ceremony, on the invitation from the new PM.
Pakistani Artists also participated in the ceremony
Leading actors Javed Sheikh, Hamza Ali Abbasi, Abrar ul Haq and Sana Javed attended the oath-taking ceremony of Imran Khan as well.
1992 National Cricket Team
The winning National Team of 1992 World Cup was also present at the event.
The first address in the house of the nominated Prime Minister.
Earlier, in his first address after getting nominated for the next prime minister, in the National Assembly, Imran Khan said that the my first priority is the accountability of everyone, who has taken state's money as their own and no dacoits will get NRO.
The power of the Muslim League (N) in the House
The PML-N candidate Shahbaz Sharif had the support of the Muttahida Majlis-e-Amal and the members of the Awami National Party besides his own party (PMNL-N).
'No bandits will get NRO'
On the other hand, in his first address inside Prime Minister house the newly appointed PM Imran Khan said "First of all I thank God who gave me this opportunity, and I am also grateful to my nation, which was waiting for a change for 70 years. I promise to my nation that we will bring the change for which they were waiting. First, I will hold all people accountable for stealing country's wealth, no bandits will be given NRO.

It remains clear that the new Prime Minister Imran Khan is committed to return laundered money back to Pakistan. For more political news and update keep visiting our platform as much as possible.
Related News
---