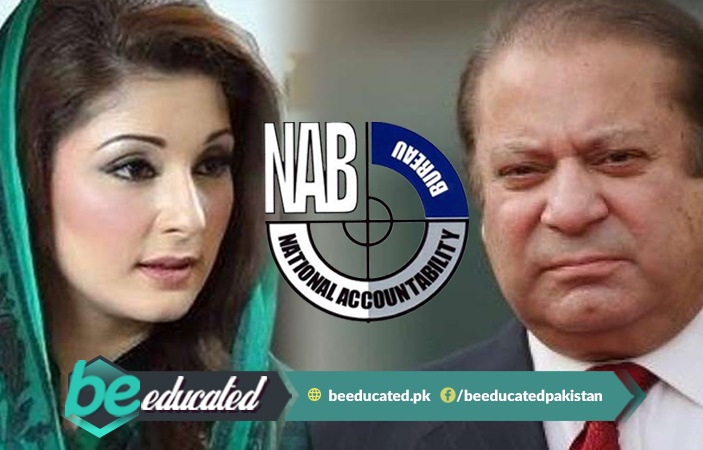 NAB has decided to immediately arrest Nawaz Sharif and Mariam Nawaz after returning to Pakistan.

According to Express News, the National Accountability Bureau (NAB) has decided to arrest former Prime Minister Nawaz Sharif, his daughter Maryam Nawaz and is son-in-law Captain (R) Safdar in the Avenfield Reference Case.

Nawaz Sharif Sentenced to 10 year's Imprisonment

NAB sources say that for the arrest of Nawaz Sharif and Mary Nawaz, NAB officials will come back to accountability court on Monday and get warrants against the criminals. NAB has received a certified copy of the Avenfield Reference decision to get warrants from accountability court.

After warrants continue, Nawaz Sharif and Mary Nawaz will be arrested on the airport if he returns to the airport as Captain (R) Safdar is present in the country, so he will also be arrested when his warrant is issued.

BeEducated.pk wants you to know that Nawaz Sharif and Mary Nawaz is currently in London. Also during a recent press conference, the Accountability Court's decision have been announced to arrest them both on their return to the country.

Reactions of Political Parties

On Friday 6 July during his press conference, PML (N) President Shahbaz Sharif said their party does not accept the decision of the court in the Avenfield reference case. In the opinion of Shahbaz Sharif the final verdict is completely biased, unjustifiable and false.

However, Chairman of PTI Imran Khan also gave a speech in Swat on the same day as Shahbaz Sharif saying, "The verdict against Nawaz Sharif is the beginning of a new Pakistan." The cricketer turned politician Imran Khan wanted to see former PM Nawaz Sharif to be held accountable for his corruption in Avenfield Reference Case. For more news and details keep visiting our website frequently.

Related News
---