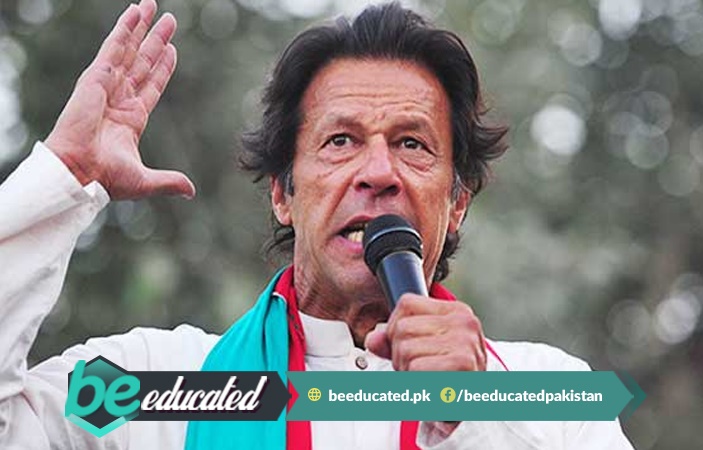 In Swat, Chairman of Pakistan Tahreeka Insaaf Imran Khan said, "New Pakistan will be established by Nawaz Sharif's imprisonment, as for the first time in the country's history, some powerful politicians are lawfully punished."

Speaking to the general public in Swat, Imran Khan said that Nawaz and Shahbaz Sharif have done lots of corruption after becoming politicians, when he came into politics, he raised his voice against these two brothers and Asif Zardari on corruption. They destroyed the national institutions, which caused the country to be miserable.

Imran Khan said that Nawaz Sharif misled the army to secure his own assets, and filed cases against me, asked a women to write a malicious book, he did all these things to cover his embezzlement. Nawaz Sharif said that the Mumbai attacks were due to the cause of our government the army did it purposely. From which the Pak Army was slandered around the world. Nawaz Sharif secretly changed the oath of secrecy to please the outer lobby.

PTI Chairman said corruption in Pakistan is spreading like cancer and as a result all citizens are under debt. Because Sharif Family stole the money while making the country bankrupt.

BeEducated.pk wants you to know that the Avenfield Case decision was the reward of Imran Khan's struggle that started 22 years ago. For the first time in the country's history a powerful politician is punished, otherwise weakest are punished all the time. The Citizen's should offer prayers to thank God, because this is the beginning of the new Pakistan. Now big bandits will get punished and they will go to jail.

Imran Khan says PML-N ministers knew that this is the Sharif family's flats, but they kept their mouths' shut. Then after Panama leaks, Nawaz Sharif's children admitted the property in London as theirs. In the past they had never accepted these London assets. When they were asked about these assets they said, "We are not accountable for anything in Pakistan, we are British citizens."

When I protested against them, they filed a case against me. Thus, I showed all my assets in the Supreme Court, and the court has declared me as "Sadiq and Amin".

The Supreme Court heard our case when we carried out a locked down of Islamabad and said that Nawaz Sharif has destroyed all departments of the country. He also talked about the JIT and the involvement of military personnel in the committee. He explained that PML-N attacked the military because few members of JIT, linked with the military, did not listen to anything when it came to their obvious corruption. In the end, it lead to bad relations between the Pakistan's military and PML (N). To get more news and updates keep visiting our website regularly.



Related News
---