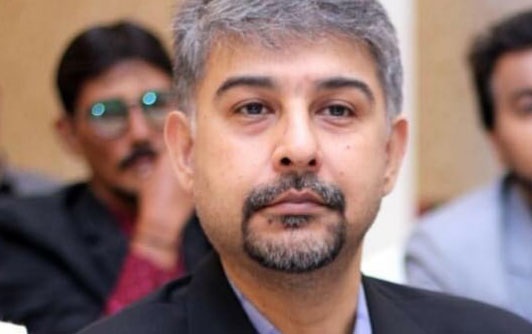 Muttahida Quomi Movement (MQM) leader, Syed Ali Raza Abidi funeral prayers were offered and he was buried in graveyard of DHA Phase IV. Many political leaders, Abidi's family members and friends were present at funeral.Syed Ali Raza Abidi was killed in front of his house and two persons killed him on Tuesday night.
PTI official on twitter:
Also read: Putting Sin Tax on Soft Drinks Is Unacceptable to Pakistanis​
Persons Attending Funeral Prayer
MQM leader Farooq Sattar, Central District Municipal Corporation Chairman Rehan Hashmi, Sindh Governor Imran Ismail, Federal Minister Khalid Maqbool Siddique, Pakistan Peoples Party (PPP) leader Najmi Alam, Karachi Mayor Wasim Akhtar, MNA Deputy Iqbal, Sardar Ahmad, Faisal Sabazwari, Activist Jibran Nasir and many others were present at funeral prayers. Police has started investigation and arrested Abidi's guard in this regard. This
political news
spread in whole city like jungle fire after sad demise of Syed Raza Abidi.
Security was tight at funeral prayers and rangers was also deployed there near graveyard Yasrab Imam Bargh. Bomb disposal squad also came there and cleared the area of Imam Bargah after sweeping completely. Politial leader Shehryar Afridi has said that we shall not compromise on peace of Karachi.
Prime Minister and President Statements
"Prime minister Imran Khan and president of Pakistan, Arif Alvi have expressed grieves over killing of Abidi and has said authorities to investigate. They both have sent their condolence messages to Abidi's family."

Chairman Pakistan Peoples Party (PPP), Bilawal Bhutto Zardari has also condemned killing of Abidi. He has said to Sindh Government to arrest the culprits involved in this murder.

Sindh Chief Minister, Murad Ali Shah has also condemned the murder. He has offered his condolence to Abidi's family. He has ordered police and rangers to cope with unpleasant situation related this case.
Shehryar Afridi on twitter​:
Also read: Railway to Increase Fares by 19 Percent in Coming Week​
Related News
---