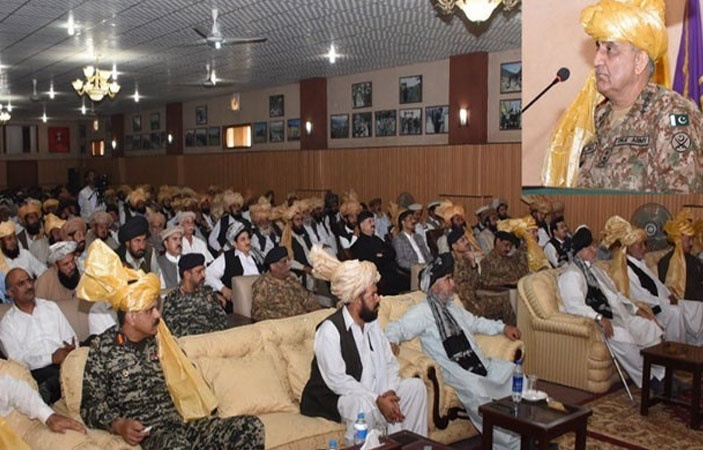 Army Chief General Qamar Javed Bajwa said that we have to ensure complete eradication of insecurity, so all of us will have to stop the unrest from taking root in our society once again.
COAS Satisfied With the Quality of Operations
BeEducated.pk found out that Army Chief General Qamar Javed Bajwa visited South Waziristan, where army chief was briefed about fencing the Pak-Afghan border.
According to the Army Staff's Public Relations (ISPR), the Chief of Staff was also debriefed about Stabilization Operations, Development Projects and Peace & Security in detail, on which General Qamar Bajwa expressed satisfaction over the pace and quality of the work.

Also Read: "Bill Gates Calls Army Chief of Pakistan"


Meanwhile, Chief of Army Staff (COAS) thanked tribal elders on the support and their cooperation with security forces, addressing the combined assembly (jirga) of North and South Waziristan elders in Wanna (Wana).
Terrorism and Development Cannot Go Together
General Qamar Javed Bajwa said that army will continue its operations in the areas alongside the Pak-Afghan border. Also, the fencing of the border will remain under progress. He said that terrorism and development work cannot happen at the same time, so we will have to ensure complete eradication of terrorism from our country and local population should focus on it at all times.
COAS said that the peace has restored in the country at a huge scale, while the restoration of peace and other operational efforts keep on going consistently. He added that the speed of social and economic growth is also increasing, so he wants the people of these areas to protect the environment of peace and security from enemy forces.

Earlier this year, General Qamar Javed Bajwa was included in the Forbes' list of The World's Most Powerful People 2018 due to his great influence on the people of Pakistan and maintaining peace with India and US ally states, where terrorist groups are trying to create unrest and other harmful situations. For latest news on Pakistan, country's politics, its education system and more, keep visiting our website as much as possible.
Related News
---