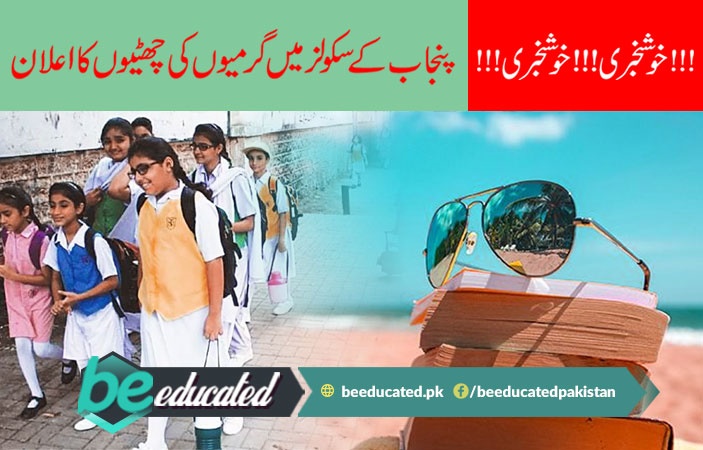 All private and government schools will be closing for the summer vacations from 17 May 2018. According to news reports, Education Minister Punjab Mr. Rana Mashhood announced the summer holidays in Punjab schools will start from 17 May and school will re-open on 10 August later this year.

Holidays Are Announced Earlier Than Expected

BeEducated.pk wants you to know that Punjab's Education Minister revealed that the schools are being closed earlier due to the approaching holy month of Ramadan. We all know how fasting can be difficult in hot weather even for adults, so how can we hope the young students to observe fasting and go to schools in such hard weather conditions.



Rana Mashhood told the press that public schools were scheduled to close from 4 June but after this announcement they will change their holiday schedules accordingly. He also said strict action will be taken against any school that does not follow the new schedule for vacations, yet schools can remain open for a summer camp. He added to his statement that schools cannot charge any extra fees for the summer camp. In the press conference, Education Minister Punjab clearly said, "Heavy fines will be charged to the school which do not follow the government's orders."

Vacations in Other Parts of Pakistan

So far, Sindh government has announced that summer vacations will start from 14 May in their schools. This decision was also made due to the hot weather conditions in Sindh region and the holy month of Ramadan, which will supposedly start from 17 or 18 may this year.

Young Muslim students will now observe fasting at home without any worries about going to school in such warm weather. Schools in northern areas will soon be closing for summer vacations as well. So, to get latest educational news keep on visiting our platform on daily basis.

Related News
---