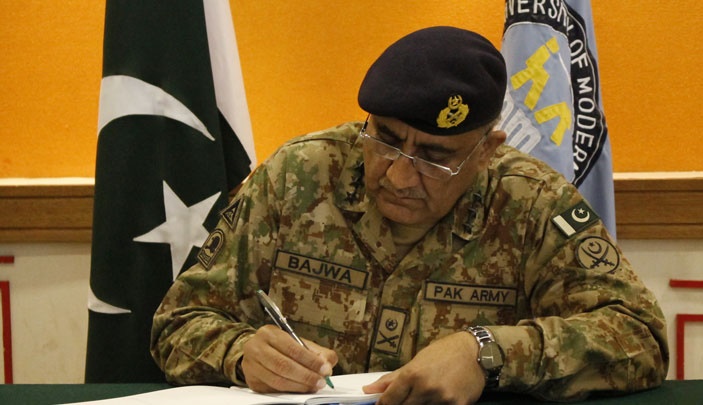 Pakistan's Chief of Army Staff General Qamar Bjawa has made it into this year's Forbes' list of 'The World's Most Powerful People'. There were a total of 75 people in the list, where General Qamar ranked as 68th most powerful person of 2018.

According to Forbes Magazine, they picked out the people on the following basis:
How many people they have under their power,
The financial resources they have,
Whether they have control in other sectors (domestically and internationally)
How often they use their power to change the world.
Earlier this year Nine Pakistanis Made It into Forbes '30 Under 30' Asia's List
General Qamar Javed Bajwa was added into the list this year along with President of France Emmanuel Macron (who ranked 12) and Crown Prince of Saudi Arabia Mohammed Bin Salman, who have made many reforms for women in his country. The crown price, youngest of all people in the list, ranks as the 8th most powerful person in the world for 2018.
BeEducated.pk
found out that according to the magazine, ex-chief of Indian Army praised the Pakistani General for his professionalism as Genral Bajwa has once served under the ex-chief in Congo.
Most Influential People of the World
According to the list the most influential and powerful person in the world is Xi Jinping, General Secretary of the Communist Party of China. Due to which Vladimir Putin, President of Russia, moved to 2nd place in the list. For the last 4 years he was being ranked the most powerful person in the world but not anymore.
While President Donald Trump ranked 3rd in the current year's list. Finally, the world's most powerful women Angela Merkel (Chancellor of Germany) ranked at number 4.
Hopefully, more Pakistanis will be included into the list in the future. For now we should be proud to have General Qamar in the list of Most Powerful People in the world. Also, keep visiting our website daily to get latest news relating to Pakistan.
Related News
---