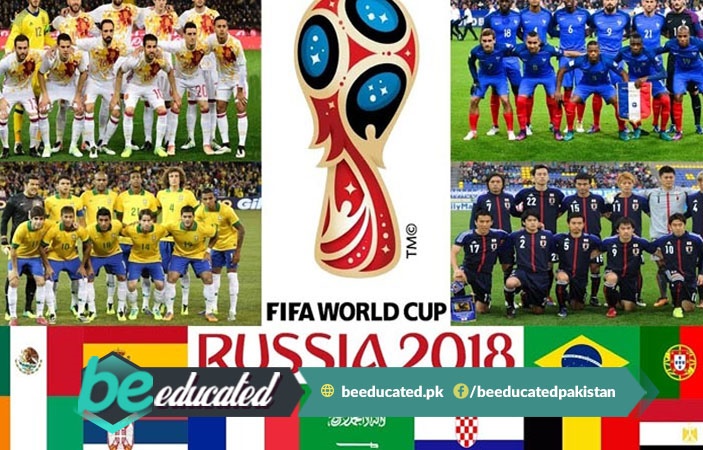 The World's biggest and most popular event in soccer world is all ready to begin. The annual stage for FIFA World Cup 2018 has been set.

FIFA World Cup Matches Will Begin From June 14

BeEducated.pk found out that the 32 best teams, of the football world, will be in action in 11 cities of Russia from June 14. But it does not mean that more than 200 countries that play football will be separated or stay away from it. As a matter of fact, the game of football is equally popular worldwide. Because if any big team is playing any common football match even then all the people in the relative countries stay alert on developments of that match.

Let us stop talking about countries instead we can take premier leagues. Every year in UK, Europe and the Spanish leagues different league-level matches are played under different events. Nothing from these matches stay hidden from the world because the interest of fans, high profile prices of players and numerous prizes are broadcasted through TV channels. However now comes the mega event the FIFA World Cup, which is the world's largest and most watched event.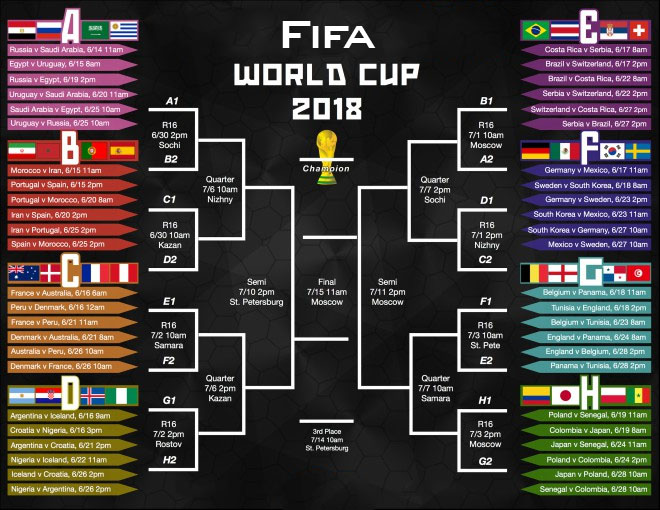 Germany, who had won from Argentina in the Last World cup finals on 14 July 2014. The losing team on the other hand didn't forget their failure and this time they will be a tough opponent. Russia is hosting the 21st World Cup Festival in 2018. This is the first football World Cup of history that is being held in Eastern Europe. Also, after the 2006 German World Cup, it is the first time the Europe will host the FIFA World Cup.

On 2 December 2010 in Zurich, 22 members of the FIFA Executive Body chose the host country of 2018 FIFA World Cup through voting. Russia got the right to host the basis of the second stage voting, and got 13 votes. Portugal and Spain had 7 votes, Belgium and Holland had 2 and England did not get any vote. It is different than in later years it was revealed that the voting was highly influenced by international pressure and politics. Meanwhile, the 2022 Football Cup will be hosted by Qatar, which is thought of as a corrupt practice.

Not All Football Teams Can Qualify

Thirteen of the 32 teams, participating in the Football World Cup, has gotten here through winning qualifying rounds, while Russia had gotten its place confirmed as the host country. There are 20 teams among these teams that had played the 2014 World Cup, however 2 teams are making there debut in FIFA Football Word Cup. Iceland and Panama will now start counting themselves among the world cup teams. Russia will host 64 matches in 12 places divided among 11 cities.

The FIFA Football World Cup 2018, which begins this summer, is a huge event. Every major country wants to participate, but the qualifying phase sometimes blocks the way for big teams in such a way that it becomes impossible for them to step into the World Cup. As no one could think that the 4-times world champion Italy will be out of 2018 World Cup. This is a painful moment for the 4-time World Champion Italy because their country had consistently participated in all consecutive tournaments from 1958.

Holland, which is also known as the Netherlands, has been running up to the World Cup finals three times. However, the Netherlands will not be playing in Russia's ground. 4 Regional champions have not been able to step into the World Cup Football. Cameron the winner of 2017 Africa cup of Nation will be outside of World Cup 2018.

America is out of the World Cup 2018. For experts and for the host country, it is also a matter of concern that the number of teams should be increased, for FIFA in the 209 countries, and top-ranked team teams should be given a direct entry.

On the other hand some countries are celebrating such as Egypt that reached the World Cup for the first time in 28 years after 1990. Morocco played the last World Cup in 1998, now it has got a ticket after 20 years. Peru stepped in the latest world cup after withstanding 36 long years of pain since 1982. Senegal has also entered a big event after 2002. It is going to be the first time in the World Cup history that Denmark, Ice Land and Sweden have qualified from North Europe. 4 countries from the Arab world Egypt, Morocco, Saudi Arabia and Tunisia have got this honor to play the World Cup.

The World Cup 2018 draws were taken out in Moscow on December 1, 2017. 32 teams were divided into 8 groups. Each Group includes 4 teams. Each group's team will play one match with their fall-off team, each group's 2 top teams will be selected for the last 16 teams. From there onwards knockout stage of the event will start. 8 teams will go to the Quarter Final after the Pre-quarter Final and then for Semifinals 4 teams will be left. While the Final will be played between two top teams in Moscow on 15 July, 2018. For more news and updates keep visiting our website.


Related News
---