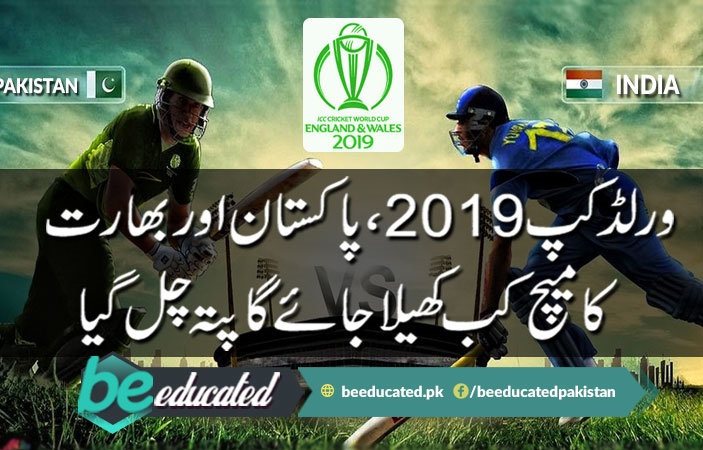 ICC ODI World Cup 2019 is scheduled to happen in England and Wales from May 30th to July 14th, 2019. On Tuesday, International Cricket Council confirmed number of teams has been brought down to 10, and 4 teams that played the last cricket world cup will not play in ODI World Cup 2019. The complete schedule is expected to be released before April 30.

The 2019 World Cup will be held in the UK from May 30 to July 14 and India will start playing on June 5 as the BCCI will have to maintain a mandatory 15-day gap between the IPL final and international assignment as per the Lodha Committee recommendations.

The great clash of 2019 World Cup between Pakistan and India will take place on June 16 in Manchester. The match between the arch-rivals is considered to be the best during any tournament and ICC mostly puts them together due to the same purpose.This match is going to be a money spinning match. Pakistan hasn't defeated India in any ODI Worldcup match.

PCB AND BCCI MEETING IN KALKOTA

PCB chairman Najam Sethi and chief executive Subhan Ahmed have been granted visas to travel to India after early confusion. There were doubts if the PCB officials will be allowed to enter India or not, but they were granted permission by the government to travel to Kolkata to attend the ICC meeting.

MATCHES IN ICC WORLDCUP

All matches in ICC World Test Championship are day matches played with red ball. If that's the case, there is no point in playing pink ball Tests if it doesn't help in preparation for World Test Championship.

ECB has indicated that the final would be held at Lord's, and the semi-finals at Old Trafford and Edgbaston Cricket Ground. In addition, the opening match of the tournament will be held at The Oval. For more news keep on visiting BeEducated.pk.

Related News
---