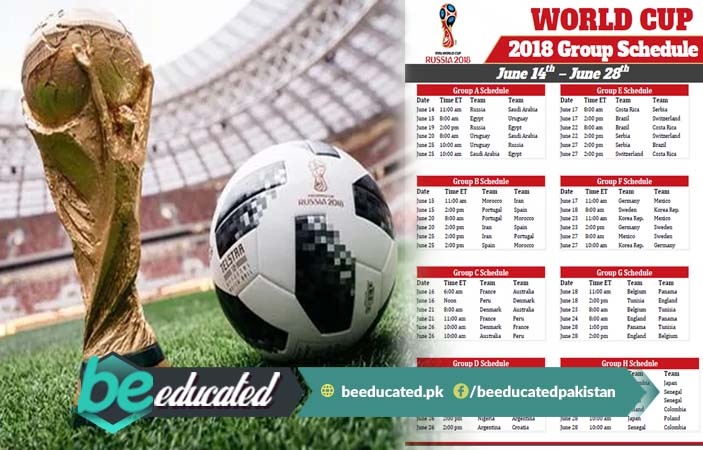 The 2018 FIFA World cup will be the 21st event of its kind that is organized after every four years. Where an international football contest takes place between men's national football teams. According to news reports, it is scheduled to take place from 14 June to 15 July 2018 in Russia.

BeEducated.pk has found that this will be the first world cup to take place in Europe since the 2006 tournament in Germany. This year, all the matches are going to be held in European Russia. So the biggest football event can progress without any delays.

Visa Recognition Agreement For 2018 FIFA World Cup

Belarus and Russia has signed an inter-governmental agreement on certain issues related to the entry of foreign tourist. The document was signed by Foreign Ministers Valadmir Makei and Sergie Larvo.

The document says that the foreign fans will be able to travel Belarus to Russia from June 14 to July 15 without Russian Visa.

The Belarusian foreign minister announced that foreign nationals holding FAN IDs would be allowed to travel to Russia via Belarus from June 4 to July 25. He added that "Russia, in turn, will grant visa-free entry to foreign nationals travelling to Minsk to attend the Second European Games."

"Step by step, we are coming closer to resolving issues in this matter. We have agreed to take practical steps to that end," said the Belarusian top diplomat.

Fans arriving for the World cup, along with their tickets and the FAN IDs, will have free of cost railway link to the stadium(s) in the hosted city. This service will be provided by running additional trains.

TEAMS AND MATCHES

The FIFA tournament contains 32 national football teams, which include 31 teams determined through qualifying matches. Iceland and Panama will be making their debut in this FIFA world cup. 64 matches will be played in 12 venues. Also the final match will take place in Moscow, the capital city of Russia. A total of 12 stadiums have been built and renovated in 11 Russian cites for the event. Recently, 2018 UEFA Championship final was played and now fans are hungry for more football action in the upcoming FIFA World Cup.

PRECAUTIONS FRANCE IS TAKING

France has banned big screen zones in public places. It is because France has been subject to several terrorist attacks in recent years. In the present scenario, the security procedure will be used in view of the terrorist threats, which was adopted during the Euro 2016 Championship.

Fans wanting to watch the games on big screens, in public, will have to enter 10 sanctioned Fan zones in each city where the security will be on high alert.

The official match football that will be used in all 2018 Fifa World Cup matches is named "Telstar 18", which is designed by Adidas. The 2018 FIFA World Cup, the first-ever hosted by Russia, will be held between June 14 and July 15 in 11 Russian cities - Moscow, St. Petersburg, Kazan, Nizhny Novgorod, Saransk, Kaliningrad, Volgograd, Yekaterinburg, Samara, Sochi and Rostov-on-Don. For more news and updates keep on visiting our website frequently.



Related News
---