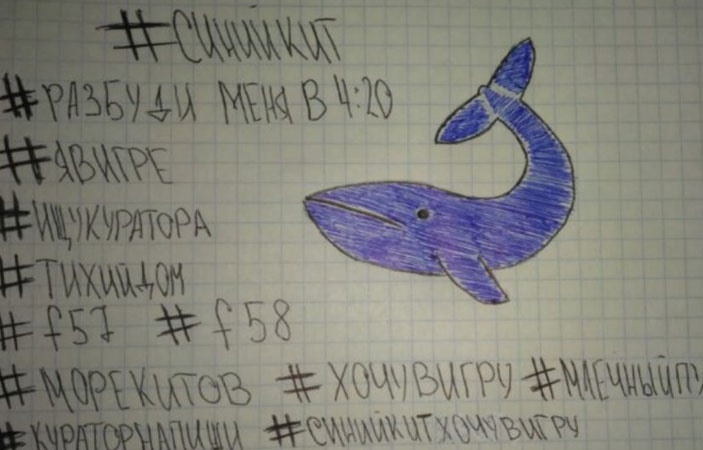 You may have heard about the challenging game Blue Whale by now. If not then you should know about the most dangerous game.
It is 50 days challenge which a curator provoke through anonymous identity to the teenage player. These 50 days challenges are based on 50 seclusion, self-harm and suicide.

The game was originated from Russia and was invented by a 22-years old Psychology student, who is imprisoned now, after the several death in Russia.

According to reports around 100 lives in Russia and Europe have been claimed to suicide through this disastrous game.
The game was named Blue Whale game because blue whales kill themselves by washing up ashore on a beach, while committing suicide.
Now the game has also influenced in the continent of Asia in which a latest case of 19 years old boy from India committed suicide as he also left the note which reads:

"Blue Whale – This is not a game but danger. Once you enter, you can never exit".

The challenges that let the people to suicide include 50 tasks. So I would recommend that the friends and family if found such tale signs for any participants they should confirm them to the police so the further investigations could take place and threatened life could be rescued before plunging suicide.

These tasks keep on changing while some from 50 tasks and listed below that were found from Russian and Lithuanian websites for the game.

Carve a specific phrase on the person's own hand or arm.
Wake up at 4:20 a.m. and watch a scary video (sent by the curator.)
Make lengthwise cuts on the person's own arm.
Draw a whale on a piece of paper
Write "yes" on the person's own leg if ready to be a whale. Otherwise, they should cut themselves multiple times.
Secret task (written in code.)
Scratch (a message) on the person's own arm.
Write a status online about being a whale.
Overcome a fear.
Get up at 4:20 and go to the roof.
Carve a whale on the person's own hand.
Watch scary videos all day.
Listen to music the "curator" sends.
Cut your lip.
Poke the person's own arm/hand with a needle.
Make yourself hurt or sick.
Go to a roof and stand on the edge.
Stand on a bridge.
Climb a crane.
At this step, the "curator" somehow checks to see if the participant is trustworthy.
Talk with a "whale" on Skype.
Sit down on a roof with legs dangling over the edge.
Another job that is in code.
A secret mission
Meet with a "whale."
The "curator" assigns a date that the person will die.
Visit a railroad.
Do not talk with anyone all day.
Give an oath/vow about being a whale

After attempting every task participant requires to send a photo to a curator for proof if they performed the task.

A licensed therapist, Kati Morton, stated that grooming is the major tactic skill that the administrator use against the player to make them comfortable about the game. They do psychological manipulation and groom the players according to the abusive task.

The game is gaining a lot of fame in past few months, doctors, parents and the police have advised everyone to keep an eye on teenager's behavior.

There is no suicide case found in Pakistan connected to Blue Whale Challenge till now. But still it's important to beware of this kind of game and for the protection of loved ones we should monitor the usage of mobile device of our beloved ones.
Related News
---