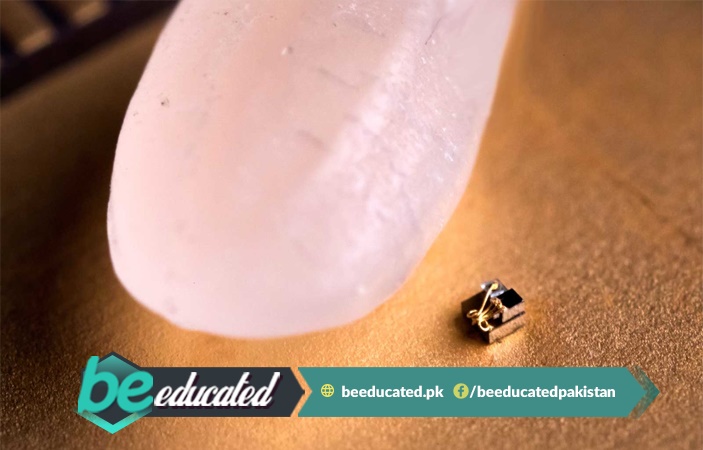 The experts at University of Michigan have created the world's tiniest computer, which is 0.3 mm in length and width. BeEducated.pk have found out that after this success University of Michigan have broken IBM's previous record for the making the world's smallest computer. However, both IBM and the University still cannot determine whether it's a computer or not. Because its programming and memory gets removed as soon as it is turned off.

Smallest Computer Can Sense Temperature Changes

The world's smallest computer, named Micro Mote, is designed to sense temperature change with the passage of time. Micro Mote is so small than it makes a grain of rice look gigantic in comparison, which is why it can be helpful in sensing temperatures in a cluster of cells of human body.

As tumour cells are slightly hotter than normal cells, so Micro Mote will be able to report cancer cells and help in treating the disease, which was not possible before the creation of the tiniest computer in the world.

The team of experts at the University of Michigan think their computer will help treat other diseases by diagnosing glaucoma from within the eye, monitor biochemical process and even study tiny creatures like snails.

The Small Size Makes the Computer Lose All its Memory

Researchers were forced to use elements that increased electrical noise to make the computer so tiny in size. So, even though it has a complete processor yet it is unable to store data within its memory after it is switched off. Which is the reason many people are not accepting it as a computer. However, this new technological advancement has opened up doors for better processing power in small sized computers.

With revolutionary inventions like world's smallest computer, we can expect that the future we see in sci-fi movies is not far away. Hopefully, our scientists will also work on creating miniaturized computers as they have started developing satellites in Pakistan. For more interesting news and updates keep visiting our platform regularly.
Related News
---