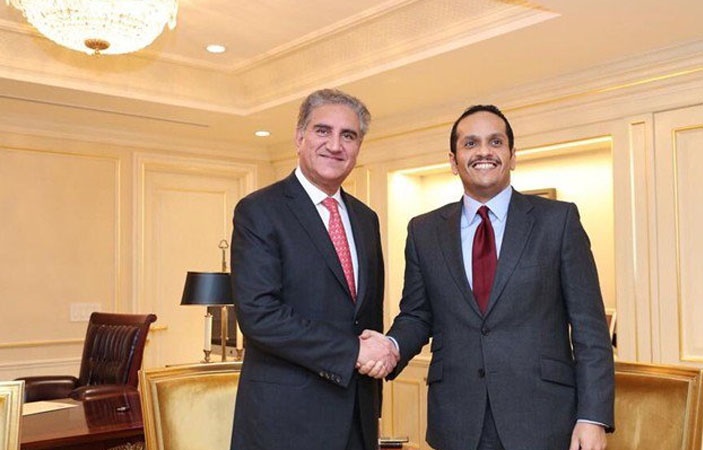 BeEducated.pk wants you to know that Qatar has offered jobs to 1 lac Pakistani people.
100,000 Jobs for Pakistanis
According to news reports, on Tuesday, a meeting took place between Foreign Minister Shah Mehmood Qureshi and his Qatari counterpart Mohammed bin Abdulrahman in New York, where both countries agreed to strengthen their bilateral relations and cooperation to enhance the economic and trade sector.

While the Ministers discussed foreign affairs, the Qatar's Foreign Minister also offered to give 100,000 jobs to Pakistanis, who are skilled enough to get employment there.


Foreign Minister Mohammed bin Abdulrahman congratulated FM Shah Mehmood Qureshi on successful elections being carried out in Pakistan, and welcome his appointment as the country's foreign minister.

According to the official statement, both Pakistan and Qatar appreciated the close brotherly relationship between the two countries and vowed to make the alliance stronger.
Qatar and Pakistan Should Keep on Working Together
Foreign Minister Qureshi was happy to see a 53% increase in the bilateral trade, and the formal operationalization of Hamad Port. He also said that it's important to tap into the economic potential between the two nations by raising the number of exports in the following sectors:
• Food Items
• Construction material
• Sports goods
• Fabrics
• Pharmaceuticals
• Medical equipment

Foreign office's statement says that FM wanted to visit Qatar's Chamber of Commerce and Industry as early as possible and he knows the importance of activating the Joint Business Council, which was agreed upon between the two countries in 2017.

More News: Employees to Work Only Three Days a Week at Office

FM Shah Mehmood Qureshi's Qatari counterpart thanked him and said that developing better bilateral relations between Pakistan and Qatar is very important. Qatari Foreign Minister replied positively in the response of Foreign Minister Qureshi's proposal of enhancing economic partnership.

He also stressed upon the need to start up all existing institutional mechanisms between both countries to take bilateral relation to the next level.

In the official statement, both countries emphasized once more that Qatar and Pakistan are important member of the Muslim society and vowed to continue working together in all kind of ways for the advancement of common issues. For more news on international jobs, keep visiting our website as much as possible.
Related News
---