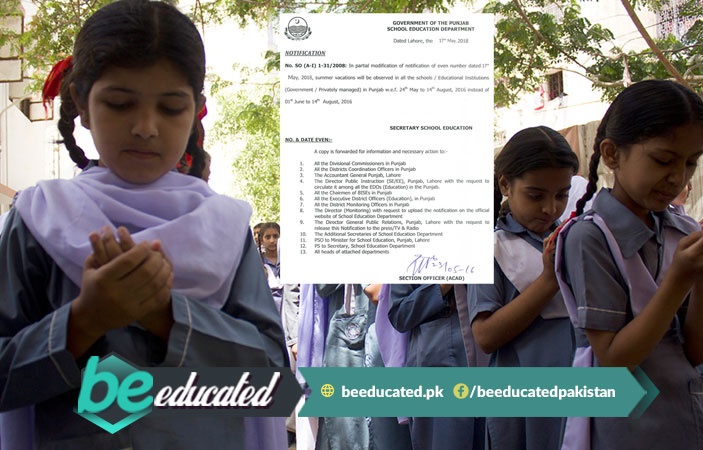 In Lahore, Private schools are receiving notices from the Education Authority because they are not announcing summer vacations according to Punjab Government's orders. Earlier this month, Punjab's Education Minister Rana Mashhood announced that summer holidays will start in all schools of Punjab from May 17.

BeEducated.pk wants to remind you that during his press conference, the Education Minister said, "Heavy fines will be charged to schools that do not follow the government's notification." This is the reason 97 private schools have received notices from the Education Authority of Lahore. Because the school managements are not announcing summer vacation as per the new schedule of summer vacations.



So Far 97 Schools Have Received Notices

According to news reports, more than 90 schools have received these notices so far due to their refusal of closing schools for the summer. Names of some well-known schools that received notices among many others are as follows:

• Educators
• City Grammar School and its branches
• American School System
• Step Grammar School
• Central Grammar School along with its branches
• Jinnah Imperial School
• KIPS School
• The Qurban School (Walton branch)
• Beacon House (Walton branch)
• DHA Education School System

Private Schools Will Not Accept the New Holidays' Schedule

Private Schools Association (PSA) was unhappy from the sudden announcement of the summer vacation in all schools of Pakistan. Chairman PSA said that early vacations are a bad idea as it will ruin the education system and he clearly said that private schools will refuse to accept the new holiday's schedule.

News Regarding Punjab Tianjin Univeristy

Punjab Tianjin University of Technology is facing lack of funding because of the new yearly budget, which does not include any plans on funding for Tianjin University in Punjab. Due to financial restraints many laboratories are still incomplete. Also operational recruitment is not being done either because the university has been denied funding of Rupees 99 Crores and 50 Lacs.

PTUT is a joint project between Punjab government and China. Also, it's a part of long term Vision Plan 2025 for a developed and prosperous Pakistan. As it addresses the issue of providing quality education to technologists at University level. Hopefully, it will get funded so that students can get quality education for completing their higher studies. For more news keep on visiting our website regularly.

Related News
---