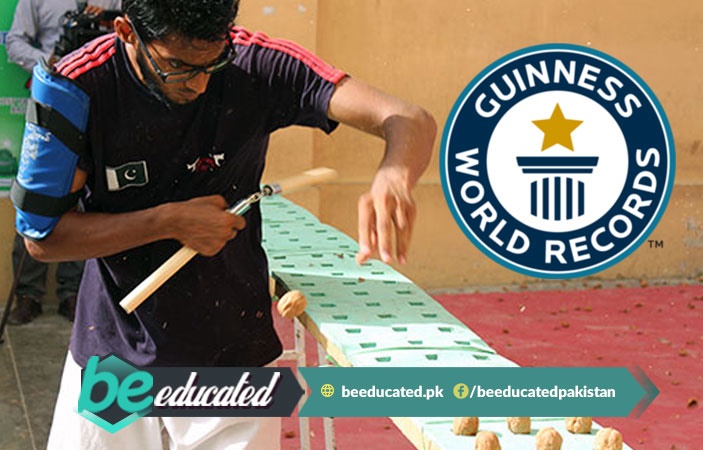 In Karachi, another Pakistani martial artist took away a Guinness world record from India. BeEducated.pk found out that Mujtaba Hassan has received a confirmation email from Guinness World Book of Records for creating new world record.

This amazing record can also be verified from the official website of Guinness World Book of Record. Mujtaba Hassan created a new world record by breaking the most walnuts with nunchucks. The previous record was made by an Indian after breaking 108 walnuts. But Hassan Broke 118 walnuts to make the new Guinness world record.

ANOTHER MARTIAL ARTIST WHO MADE OUR COUNTRY PROUD

Few weeks earlier, Rashid Naseem also snatched a Guinness World Record from India. He broke 278 walnuts with his palm within a minute. Rasheed also smashed 51 watermelons with his head and he performed numerous breath taking stunts. Rasheed trained really hard to make these records. And by making these kinds of records he made the whole nation proud.

OTHER PAKISTANIS WHO MADE WORLD RECORDS
Ali Moeen Nawazish is also one of the leading Guiness world record holder. He scored Maximum A's in Cambridge within 12 months.
Abdul Sattar Edhi established the largest volunteer ambulance organization across the globe. The Edhi Organization serves the nation through their ambulance service 24 hours a day and 7 days a week.
The smallest published Quran is also very rare. Its measurements are 1.7 cm x 1.28 cm x 0.72 cm (0.66 in x 0.50 in x 0.28 in). It is finally printed and is recorded to be 571 pages long.
Arfa Abdul Karim became famous in 2004 for earning the honor of becoming the first Microsoft Certified Professional at the age of nine. She was awarded the title "PRIDE OF PAKISTAN" by the president of Pakistan at that time. The computer genius died in 2012 due to cardiac arrest.
It is good to see many Pakistanis making world records to bring fame to our country. We hope our country can hold spots for various categories in the Guinness World Record Book.
Related News
---