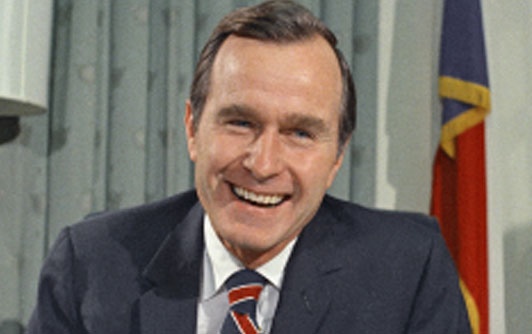 It's has been 5 days since the passing of USA's 41st President George H. W. Bush, while Google is still mourning his death by displaying its US landing page in black and white.



George Bush Senior's Passing
According to various sources, the former US President was known to be suffering from a type of Parkinson's disease and was forced to move around on a wheelchair ever since 2012. He passed away on 30 November 2018 at his residence in Houston and got to live till the age of 94.

His funeral took place at the St. Martin's Episcopal Church (in Houston) where his body lay in repose from the evening of 5 December up till 11:15 am (Pacific Standard Time).

Messages of condolence have being offered by former US Presidents such as Bill Clinton, Barack Obama, Jimmy Carter and the current President of the States Donald Trump. While George W. Bush (George Bush Jr.) read his father's eulogy during the funeral, in which Bush Jr. talked about his father saying, "He accepted failure as part of living a complete life, yet taught us never to be defined by failure"
Urdu News: US confirms Trump Wrote Imran Khan a Letter
Respects Offered
News reports say that people of all statures visited the Episcopal Church to pay their respects to their Ex-President, ranging from retired US Navy Officers to High School History teachers. While Former Senator Bob Dole was helped out from his wheel chair upon his wish to salute the casket of George Bush Sr. in the Capitol of U.S.
American People's Admiration Towards George H. W. Bush
Former US Commander in Chief George Herbert Walter Bush was a American statesman and politician of the Republic party that is still being remembered as a great person, friend and president for family, friends and general public respectively.
For more news on international affairs keep visiting our platform on daily basis.
Related News
---