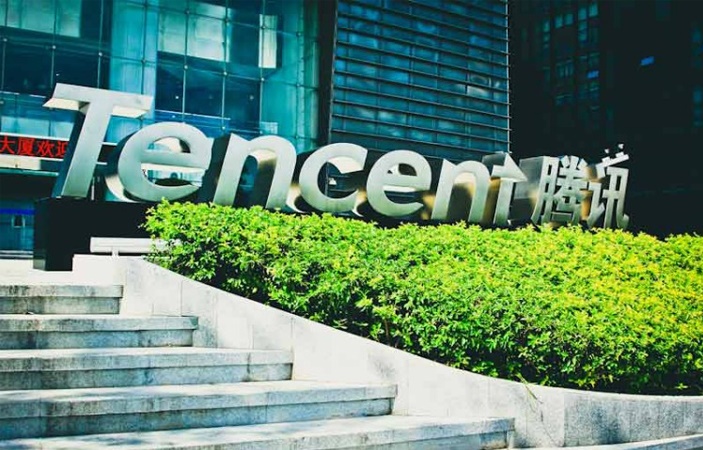 On 14th November, Chinese Tech giant Tencent became the first Asian Company to cross half a trillion-dollar mark in market capital leaving behind Facebook and its regional competitor Alibaba.
At $534 billion market cap, it is a mere $8 billion behind the retail giant Amazon which has a market cap of $542 billion. The company started out as an online messaging application (QQ) and since then has branched out to include every avenue of the technological world.

Tencent's Mobile Payment
The primary success of Tencent comes from China's most popular instant messaging app WeChat. The 980 million active monthly users, chat, send media files, and play online games through this integrated platform.
Unlike similar foreign businesses, Tencent offers an all-in-one ecosystem that includes the service of mobile payment. This has not only revolutionized the local money transactions but also the Chinese culture by turning it into a cashless society.
Most small businesses in China like food restaurants and hotels now accept payments through the WeChat's QR codes that look similar to barcodes. This has also allowed the media sectors to publish their content directly to their WeChat accounts pestering censors which regularly suspend these accounts.
Exporting Tencent and China
Facebook and Youtube are banned in China allowing the country's own tech businesses to provide the novel life necessities of Internet-related services to a market of 1.3 billion. Tencent, with all its integrated mini-programs, has been quite successful in providing alternatives to video browsing, music buying, and social media platforms.
The company's President Martin Lau says that Tencent's ultimate goal is to replicate its success in the international markets, which the business analysts claim is not an easy nut to crack.
Tencent's new endeavors include the publishing of Chinese Novels which it then wants to turn into drama, movie and video game adaptations through Tencent's other business ventures.
Tencent has recently acquired the license for e-payment in Malaysia, making it the first foreign grounds that will benefit from WeChat's ecosystem. About 20% of the Malaysian population has Chinese ethnicity and there are 20million Wechat users in the country. This makes the market welcoming to Chinese products.
Other Businesses
Online games added a huge chunk of revenue to Tencent's quarterly earnings. QQ fantasy, Xunxian, QQ Huaxia, QQ Nanaimo were among the early games offered on the QQ portal. "Honor of Kings" is the most popular game on the Tencent platform right now, increasing the company's smartphone game revenue by 84% compared to the previous year's Q3 earnings.
Tencent is investing vigorously into entertainment and video. It has Tencent Music (like Spotify) and Tencent Video (like Youtube) as the fastest growing areas with Tencent Video surpassing 43 million paying customers.
Final Thoughts
To increase their influence in the international arena, Tencent has bought has acquired stakes in Tesla, Snap.Inc and Supercell (the Finnish mobile company that made popular game "Clash of Clans").
Tencent has struggled to reign over and monetize its homeland digital market. The company's acquisition in a number of international organizations is one of its key strategies to dominate the global competition.
The exportation of the ecosystem of Tencent is in its stage of "infancy", this makes huge promises in the global growth of the company. Tencent is now the 5th largest tech company in the world and it sure will be climbing up the ladder once it cracks into the global market.
Related News
---