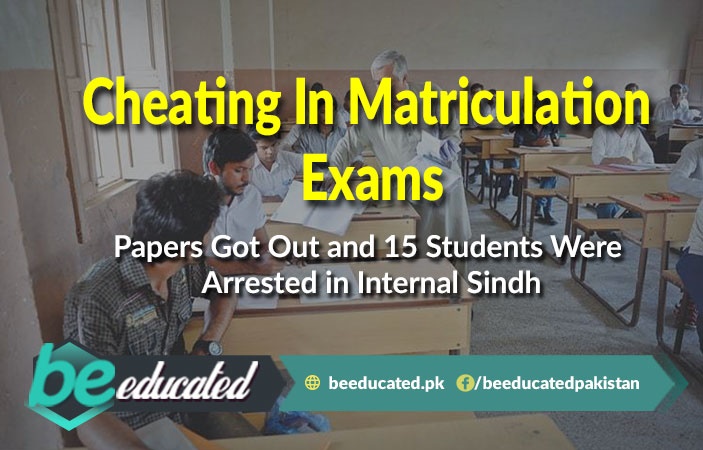 According to a news featured in express.pk there are reports that Matric students in internal Sindh are cheating in their examinations, in all ways possible. So far, authorities have arrested 15 students who were caught in the act of cheating in exams.

The 9th and 10th class examinations have started for the Educational boards of Larkana and Sukkur. 15 students of 9th class were arrested as they were caught cheating in their English exam. These students were caught from examination centers of different districts such as Hyderabad, Badin, Matiari, Tando Allahyar, and Kazi Ahmed.

214 examination centers are set up under the supervision of Sukkur board in 4 different districts for more than 100,000 students. Even though 27 teams were formed to stop students from cheating in their exams, still nothing could be done about it. Thousands of student still cheated in their papers and only few were caught. In many examination centers students kept on cheating in English – I paper. Students brought guides and solved papers with them, so they can copy answers from there. The teams that were to stop them could not be seen anywhere. The invigilators present inside exam rooms couldn't stop the students from cheating either. The examination centers were surrounded with people who provided help to the students who wanted to cheat in their exams.

BISE Hyderabad has also started the annual examinations of 9th and 10th class. Cheating material was also found from many of the students who appeared for their exams in Hyderabad. In Mirpur Mathelo, English exam paper was revealed through WhatsApp before the exam even started in the examination center there. So, most of the students didn't refrain (stop themselves) from cheating in Hyderabad as well.

In Badin, English – I also got out before the examination started. So, Examination Commission announced the revealed exam paper as false. Controller of Examinations further explained that the question papers were revealed along with their center codes. Students who were appearing for their 9th class Sindhi exam started solving their papers from the revealed exam papers, which they received on WhatsApp. Students did this because they were not given the actual question papers in time.

All in all, team of BeEducated.pk thinks, the Examination Commission should reconsider their invigilation techniques. So they can stop students from cheating in their exams. As students will only pass because they copied their answers. It definitely shows that they will learn nothing. If nothing is done soon, future of our students will be destroyed.

Students you should always work in securing a good future for your sake and your parents, and also our beloved country. Study Hard!

Related News
---