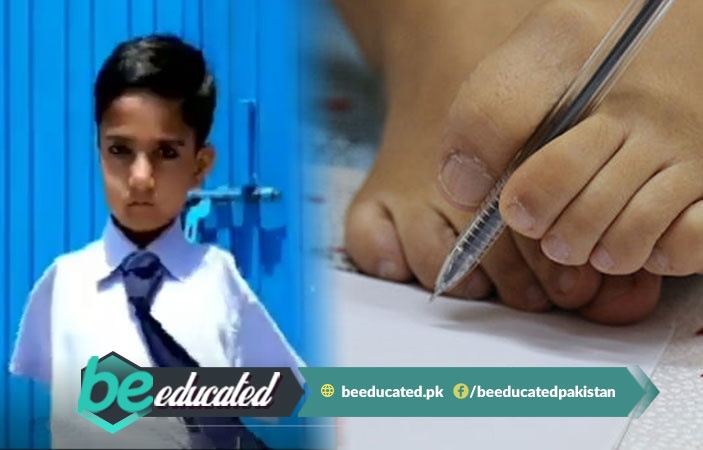 In Daska, 5 year old handicap student without both arms can write and even draw paintings. The young student Abdullah uses his feet to write, draw and colour pictures. Having no arms can make any person lose hope of living a normal life but this brave student has become a role model for all other students, handicapped or not.

Abdullah Goes to School in Daska Tehsil of Sialkot District

Daska is known for one of its factory that made Pakistan's first and world's second washing machine. Now once again, this young student has brought Daska back in to everyone's eyes. BeEducated.pk wanted to share this news to give students encouragement to study under all conditions.

If a boy without arms can go to school, learn to read and write, and play with his friends then other students should have no excuse for not studying properly. In the news report Abdullah can be seen wearing his school uniform and walking in his school.



The news reporter said the young student was born without both arms but he did not let it become his weakness. He said that Abdullah uses his feet to do all tasks that his arms cannot. Due his continued practice he can now write beautifully with his feet and he can also make paintings. For his achievements Abdullah is counted in one of the brightest students of his school.

Teachers and Family Member Are Proud of Abdullah

In an interview with Express News, his school teacher said, "Abdullah plays in the ground he always looks active and sharp." His teacher also said, "He is a very naughty boy."

Talking to the news channels his brother said, "Both of us go to school together and we study together as well." He added, "We really enjoy the time we spend with each other."

His sister also gave an interview where she said, "Whenever we get in to a fight with Abdullah- he goes to our father and tell him all about it." She further said, "Father then scold us (her and the other brother) for fighting with him."

The news report shows us that the 5 year old handicapped student is living like every other young student without feeling discouraged about his disability. So, all students should not think about how summer vacations are announced in Punjab schools from 17 May but they must focus on learning new things like the brave and fearless Abdullah. For more educational news stay in touch with our website.

Related News
---