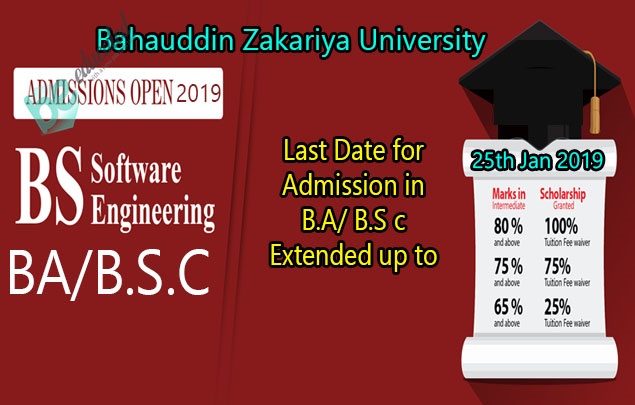 Bahauddin Zakariya University (BZU) is the largest university of southern Punjab. It is located in the city Multan. Previously it was known as Multan University. Degrees in Engineering, Pharmacy, Medical, Humanities, Law, Art, Music, Computer/IT/Telecom, Business Administration, Agriculture and other fields are awarded in University. It is estimated that study of more than 60 subjects are covered in this university
Last date for admission in B.A/ B.S c extended up to 25th January 2019
Admission date for BA/ B.S c has been extended up to 25th January 2019. Students are advised to get registered as the last date is 25th January. You can learn more through our portal about results or any extension in admission date for BA/B.S c. Multan is said to as city of saints. Many historic memories are related to Islamic culture. All students are advised to send their admissions up to last date 25th January 2019.
Establishment of BZU
BZU was established in 1975. It is autonomous body which is struggling for uplift of education. BZU is covering graduation and master level classes for students from science and arts fields. Bahauddin Zakariya University was named in the honor of Hazrat Bahauddin Zakariya (1171-1260). It is ranked as one of the top 800 powerful universities of the world.
How you get more Information like this Admission News
You should allow notification on in your browser so that when we update any news related admission, date sheet and result then you can get that update easily of Bahauddin Zakariya University which is in Multan or any other university of Pakistan. Students of different classes can also get benefit from our portal like students of 12th class can get 12th class notes and 12th class syllabus from our portal so that they can prepare for exams in a well manner.
Also read: Chief Minister Punjab announced to establish three Universities in Punjab
Related News
---