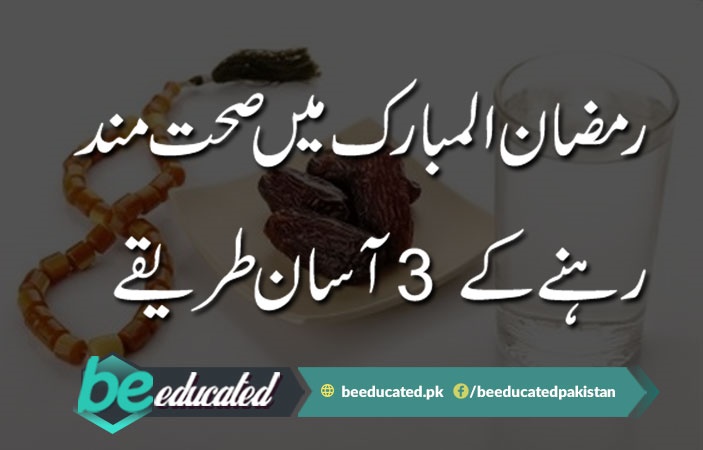 To stay in top condition during Ramadan Kareem (holy month of Ramadan) Punjab Food Authority has presented a dietary plan for Sehr-o-iftar. According to experts, people should eat light meals for observing fasts because of the hot weather. Eating yogurt in Sehr time is extremely good for fighting various stomach problems caused during high temperatures of the summer.

1. Dietary Plan for Staying Active during the Day

BeEducated.pk has found out that Punjab Food Authority (PFA) has asked everyone to follow the advices given below for their pre-dawn meal (Sehri):
Eat things filled with fiber declaring porridge, rice and flatbread (made of gram flour) as the most fiber rich foods
Avoid meat and other dry foods to stay hydrated during the day
Eat fruits and vegetables like apples, guavas, peach, potatoes and spinach because they are rich in fiber.
Don't drink too much tea
Try to use more dairy products like milk and yogurt
As the fasting hours are quite long, people will need to keep up their strength. For that purpose eating fiber rich foods will help you keep active throughout the day. Eating yogurt will help you in stopping you from feeling thirsty.
2. Eat Less and Eat Healthy
At the time of Iftar (meal at sunset) you should eat a balanced or light meal. You should try to avoid things made from fats and sugar like fried foods and sweets because they can impact negatively on a person's metabolism, which can result in headache and the person feeling tired.
Experts have told express news that we should break our fast with dates and yogurt or water and fresh fruit juice. After this we should wait for 10 minutes and then eat something more nutritious.
3. Fasting for Diabetes Patients
Firstly, the most important thing is to keep your sugar level in check. Also to avoid weakness due to diabetes you should take 20 peeled almonds, 1 tablespoon raisins and 1 tablespoon black chickpeas and soak them in water before going to sleep. Then eat them 1 hour before the pre-dawn meal.
Early Summer Vacations Due to Ramadan in Pakistan
Schools of Punjab and Sindh are closed for the summer because of the holy month of Ramadan and high temperatures in the region.
Schools in federal areas will close from 4 June
later this year. For more information and news keep on visiting our website on daily basis.
Related Article
---