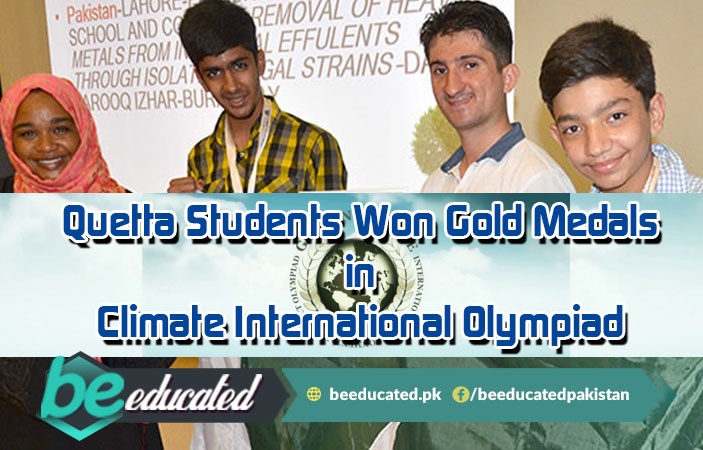 Two students from Quetta Mukaram Fattah and Yasir Jan have won 1st and 2nd positions in the Climate International Olympiad. Through their achievement Pakistan has once again proved to the world that our youngsters are extremely talented and intelligent.

The Climate International Olympiad was held in Kenya, where students from 21 different countries participated in the event. Pakistan's young and talented students presented their projects in the category of environment. After competing with various other student projects, 7th class student Mukaram and 9th class student Yasir won 1st and 2nd positions in the Climate International Olympiad.

Mukaram Fattah explained about his project that he developed a mosquito repellent, which is free of harmful chemicals. He said that he made this lotion to stop people from using the widely available mosquito repellents which are harmful to people and their skins. Hopefully large industries will use his formula to make mosquito repellents in the future because it is a mixture of chemical free mosquito repellent and glycerine.



"We made a chipboard using pine needles", said Yasir in his interview with Express.pk. Yasir further explained that we can find pine needles lying around everywhere, in northern parts of Pakistan. So, he tried to make them useful by creating a chipboard. The materials he used to make the chipboard were pine needles, glue, starch and bleach. Yasir said that he dried the pine needles then put them in a frame and after that added other materials to make his chipboards.

BeEducated.pk has posted this news to encourage students to develop or invent technologies for the progress of Pakistan in various sectors. There are many students studying in various schools in Pakistan. But not all are trying to use their studies to develop new products and technologies for the development of Pakistan.

Every student should study hard and try to practice his/her knowledge in daily life activities to invent new ways to make life better for people around the world. Like these two students from Quetta, may we see many other Pakistani students and researchers develop environment friendly products to help people of this world.

Related News
---