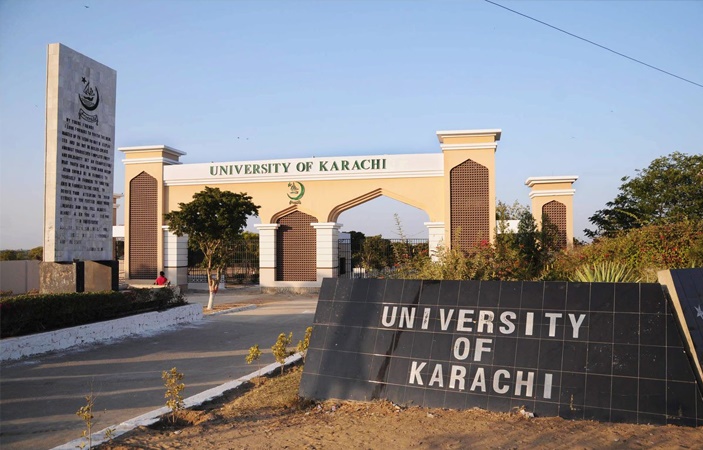 University of Karachi was established in 1953. This is the largest university of Pakistan in terms of regular students which are more then 24,000 and total area. University of Karachi manages programs like, Bachelors, Masters, M.Phil., Ph.D., M.S/MD in different fields.
You can take admission in University of Karachi through self finance, Merit based and Test based criteria.
In Bachelors degree you have the options to take admission in Bachelors of Arts, Bachelors of Business Administration, Bachelors of Computer Sciences, and Bachelors of Software Engineering etc.
In Masters Programs they are offering degrees for subjects like Applied Physics, Biochemistry, Biotechnology, Botany, Petroleum Technology, Physics, and Chemistry for Pre-Engineering and Chemistry for Pre-Medical etc. They also arrange programs in Arabic, International relations, Islamic Banking and Finance, Library and Information Sciences etc.
You can also take admission in M.Phil. and Ph.D. degrees in University of Karachi in subjects like, Political Science, History, English Literature, Chemistry, Economics, Physics, Urdu Literature, Philosophy, Business Administration etc.
Karachi University is one the highly reputed educational institute of Pakistan. Students from all over the country come to the city of Karachi to take admission in Karachi University.
In Karachi University you can also take admission in evening shifts for different programs in BS, MS, M.Phil. and Ph.D. Karachi University is one the finest institutes which are working in the field of scientific research. Recently an international centre for Chemical and Biological Sciences has been developed in the university. More than 500 students are enrolled in university of Karachi for Ph.D. programs in that research centre. University of Karachi has played a vital role in field of Physics and Chemistry and students do get a chance to research when they found themselves facilitated.
The University of Karachi also provides Library services for the students. This is currently one of the biggest libraries of the country. Millions of books are available for readers here. Also, a section of library is reserved where books of Quaid-e-Azam Muhammad Ali Jinnah are placed.
The University of Karachi also provides services for distance learning. A special block is reserved to facilitate the students who want to get education through distance learning sources.
For each program of education, you can get admission on the basis of merit, entry test and also on the basis of self finance.
We are sure that if you decide to take admission in University of Karachi, it would be a long serving decision for your educational and professional carrier.
Related News
---