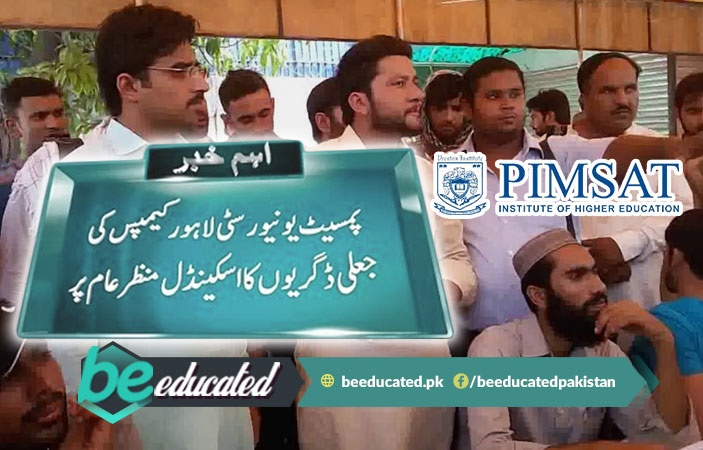 PIMSAT Fake Degree Case

According to news reports, PIMSAT University students are appealing to Chief Justice of Pakistan (CJP) for verification of their degrees. Preston Institute of Management Sciences And Technology (Lahore) is issuing fake degrees to its graduates, because HEC has added PIMSAT in its list of illegal and fake institutions. Now, thousands of PIMSAT graduates are left with useless degrees and they are worried about their future.

Students and other people related to the matter gathered in front of Supreme Court (Lahore District) to appeal to CJP for the verification of PIMSAT degrees. They demanded that the High Court should extend the hearing time for the fake degrees case. If nothing is done graduates will not be able to pursue further studies or apply for jobs anywhere.



Chief Justice Taking Action Against Public Universities

Recently in Punjab, Chief Justice Mr. Saqib Nisar dismissed VC of Lahore College for Women University along with four Vice-Chairmen of other public universities. After the court received complaints about their illegal hiring. He has ordered public universities to appoint new VCs on merit and asked the most senior professors to serve as provisional VCs.

BeEducated.pk has posted this news so that the appeal of PIMSAT graduates can reach as many people as possible. If HEC does not verify their degrees then their years of hard work will be wasted. They will have to take admission in Bachelor's degree programs once more, which will take another 4 years to complete. Hopefully, CJP will hear the appeal and look in to the PIMSAT Fake degrees case to offer a solution.

HEC's List of Illegal and Fake Universities

There are various illegal universities that are fooling students and parents to take admission in their bachelor's or master's degree programs. They are only interested in your tuition fee and not your future. So, students you should check the HEC's List of Illegal Universities before applying for admission to be sure you will awarded a degree after you complete your studies from that university.

All students must get quality education to make Pakistan one of the leading countries of the world. Government should make plans to stop illegal Universities from ruining the futures of our youth. Also, it should provide basic education to all children in various areas of our country. For more news related to education in Pakistan keep visiting our website.

Related News
---