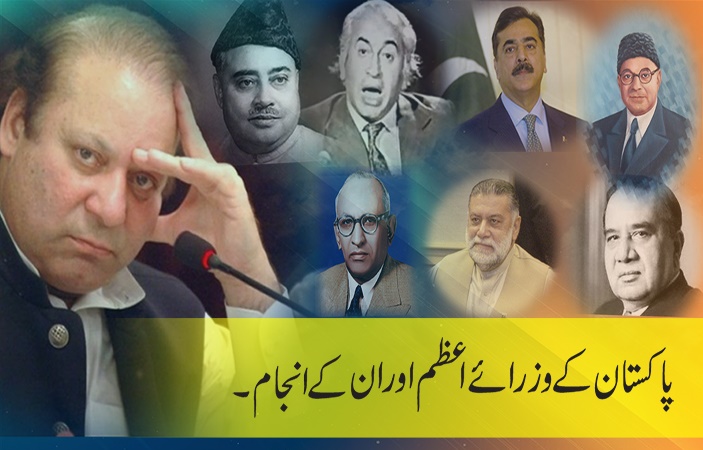 Pakistan's elective Prime Ministers with their sarcastic knockouts
Supreme Court of Pakistan disqualifies Prime Minister Nawaz Sharif and surprisingly no Pakistan PM complete his/her tenure till today.
Here are the names list of Prime Ministers that were once elected for the Pakistan's Democratic Government and later were abandoned sarcastically. So have a look on the names below with the reasons, they were knocked out from their governance period.
Liaquat Ali Khan (Murder)
Khawaja Nazimuddin (Disqualified)
Muhammad Ali Bogra (Compelled to Resign)
Chaudhry Muhammad Ali (Resigned in deteriorated situation)
Huseyn Shaheed Suhrawardy (Forced to Resign)
I. I. Chundrigar (Forced to Resign)
Feroz Khan Noon (First Martial Law)
Zulfikar Ali Bhutto (Martial Law and sentenced to death)
Muhammad khan Junejo (Disqualified)
Benazir Bhutto (Disqualified)
Nawaz Sharif (Disqualified, again rehabilitate and then Forced to Resign)
Benazir Bhutto (Disqualified and later Murdered)
Nawaz Sharif (Martial Law and Banish)
Zafarullah Khan Jamali (Forced to Resign)
Yousuf Raza Gilani (Disqualified by Court Decision)
Nawaz Sharif (Knockout by Court Decision)
9th Class Result 2017
Check here
Related News
---