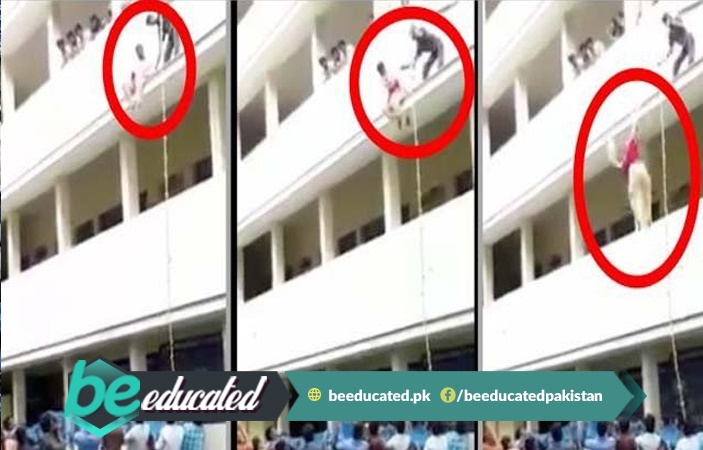 During a safety training exercise organized for college students by the National Disaster Management Agency (NDMA) in India, a BBA student dies after hitting her head against a wall in the practice of jumping from a two-story building.

Girl Hits Her Head Against Wall on First Floor

According to the Indian media, the officials of NDMA came to train students of the Kovai Kalaimagal College of Arts and Science, located in Tamil Nadu, on how to remain safe in accidental or unforeseen circumstances. But during the exercise a female student lost her life due to negligence of a training officer.



Students, who witnessed the incident, say that during the exercise of jumping from a height in case of a fire, the BBA student Logeswari was asked to jump from the second floor. While other personnel and college students were present with a security move to break her fall.

BeEducated.pk found out that when the student expressed hesitation, the official pushed her to end her fear.

Unfortunately, Logeswari's head hit against the wall on the first floor of the building, due to which the 19 year old female student started bleeding. She was immediately taken to the hospital but the injured student was pronounced dead after reaching the hospital.
The hospital administration says that the death of the student occurred due to severe injuries and bleeding. While the local police has arrested the official who pushed the girl off the building, filing a case against him for causing death by negligence.

It Was an Accident Says Investigators

According to news reports, few students had already jumped to land on the safety net after the drill started in the afternoon. The students jumped from the second floor of a three story building on the campus. Around twenty students were participating in the training exercise which was suspended mid-way due to the incident.

An investigating official revealed that a group from Chennai was holding the training exercise. They have done this drill in various other colleges over the past five years. He added that a few students had jumped before her and nothing happened to them, (so) this was an accident. For more international news keep visiting our platform frequently.
Related News
---