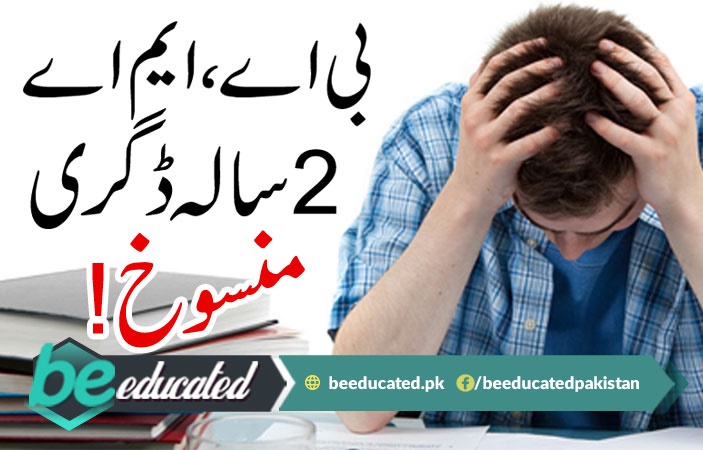 The 2 year Bachelor's and Master's Degree Programmes have been discontinued from the academic year of 2018 and 2020, respectively. According to the Chairman of Higher Education Commission (HEC) the Universities or Degree Awarding Institutes (DAIs) were informed about Private B.A degrees being demolished in 2018, along with all other 2 year Bachelor's and Master's degree programmes, for 3 years now.



In March 2017: An official letter, by the HEC, was sent to all Universities or DAIs all over Pakistan informing them that from 2018 the 2 year Bachelor's programmes (i.e. B.A and B.Sc) were to be phased out. Furthermore the M.A and M.Sc degrees which amount up to 16 years of education would also be discontinued by the academic year of 2020.

The letter also addressed the issue that, domestically and/or internationally, companies were being confused by the 2 year Bachelor's and Master's degrees held by Pakistanis seeking jobs. As the international standards only allow a 4 year Bachelor's (Honors) programmes for some years now, which amount to 16 years of education. Also the Master's Degree is given after completion of 18 years of education by foreign institutions.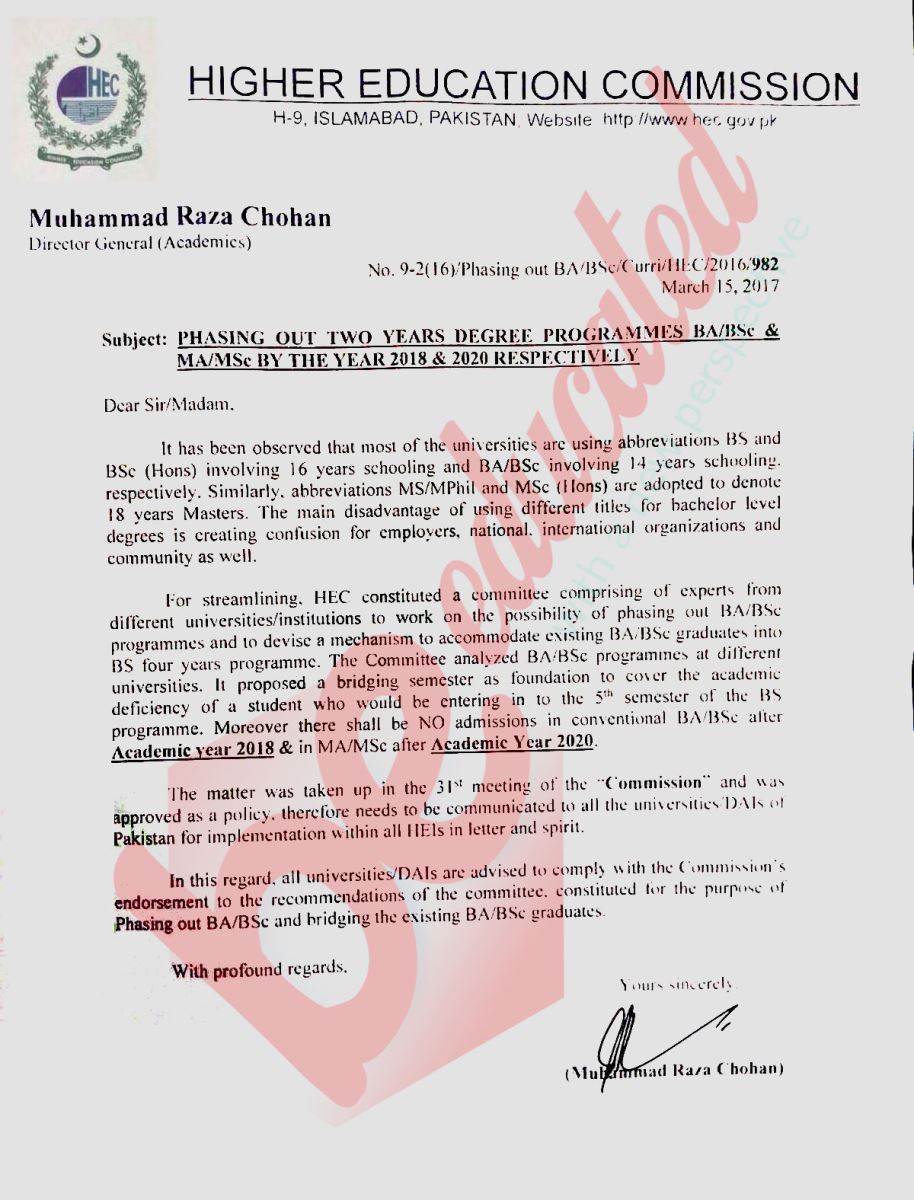 The idea to phase out 2 year degree programmes was introduced in 2004-2005 and was agreed upon by all the stakeholders. Then to counter the difficulties faced by the cancellation of 2 year bachelor's degree programmes HEC started an Associate Degree Programme, in 2007. Admission was given to any person who had passed Intermediate or 12th class. Once a student got the Associate Degree It was equivalent to Bachelor's degree (2 years). It could get the student enrolled in 5th semester or starting of 3rd year in any university allowing admission in their 4 year bachelor's programmes.

All the students, who are to pass their 12th exams this year or pass Intermediate after 2018, will only have the option to enroll into 4 year Bachelor's programmes from now onwards. And then when they complete their bachelor's degree they would have completed 16 years of Education. Many universities, for the past few years, have already introduced the 4 year bachelor's programmes with thousands of graduates, and students still graduating, here In Pakistan.

Team of BeEducated.PK thinks this is a great move towards the development of Pakistan and its education system. Because if we are on the same level as foreign education systems, only then our students and/or graduates can compete with other countries in the studies/research, business and other fields of present age.

We will keep you updated on all kinds of news regarding the educational sector of Pakistan. So keep on visiting our site to know about the upcoming 5th class result 2018 and 8th class result 2018. There is no shortage in helpful guides and notes for all classes on our site, thus keep browsing our pages for more information and details.


Related News
---