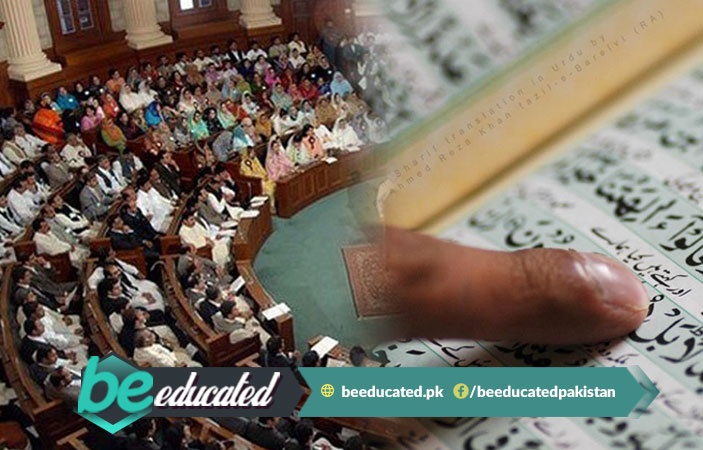 On 4th May 2018, Punjab Assembly passed the bill for making the teaching of Holy Quran compulsory for Muslim students in all schools and colleges of Punjab. Assembly member belonging to Jamaat-e-Islami Dr. Waseem Akhtar presented the 'Compulsory Teaching of Holy Quran' bill, which was supported in Punjab Assembly by the opposition as well.

Passing of the Bill and its Implementation in Schools

After the passing of this bill all private and government educational institutions, like schools and colleges in Punjab, will teach recitation of Holy Quran and its translation to Muslim students. Students from class one till fifth will learn how to recite the Holy Quran while students of class sixth up to twelfth will be taught the Holy Quran along with its complete translation.

When the bill was passed in Punjab Assembly, all present members of assembly congratulated Dr. Waseem. On this occasion, Dr. Waseem said that this a great achievement for Punjab Assembly because Muslim students will receive Islamic teachings from the Holy Quran in their schools.

Hurdles for Passing the Bill

BeEducated.pk found out that the bill was in the assembly's agenda on 30th January, 2018. But an MPA belonging to the ruling party pointed out that not enough assembly members are present for taking votes and passing the bill. So, Speaker Punjab Assembly Rana Mohammad Iqbal first stopped the session for five minutes, which then got delayed for another 20 minutes. In the end the session was set for 3rd May later in the year.

Some assembly members said that it was an act of stopping the bill from passing in the Punjab Assembly. Dr. Waseem told express tribune that Ruling party is creating difficulties in the passing of the bill. Finally the bill has passed which clearly states: "Being an Islamic country, the free and compulsory teaching of Holy Quran will definitely be a source of the establishment of a society based on the teachings of Islam."

Everybody knows about Government's negligence towards education in Pakistan. Hopefully government will soon pay attention to the education department and develop plans to provide free compulsory education and teaching of Holy Quran to all schools of Pakistan. This will be a great step towards making our youth capable enough to compete with all the other nations of the world.

Related News
---