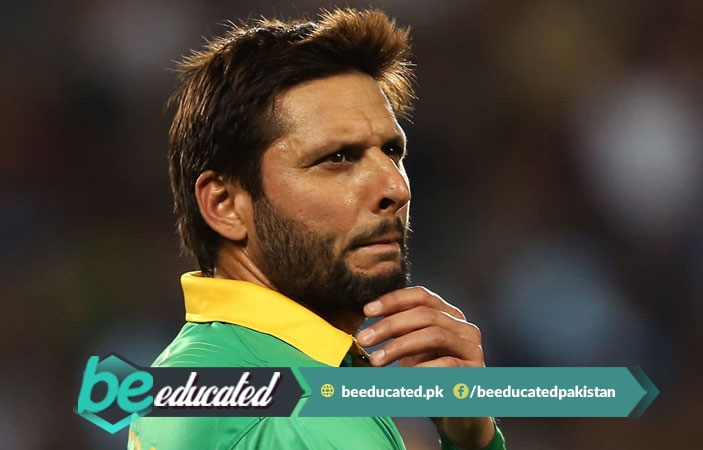 International Cricket Council has selected Shahid Afridi to lead the ICC World XI. According to news reports Shahid Afridi former Pakistani team captain says, "It is a great honour to be leading the ICC World XI (team)."

Fund Raising Match Can Help Shahid Afridi Make Another Record

BeEducated.pk found out that Shahid Khan Afridi, the prominent all-rounder of Pakistan cricket team, said leading the ICC World XI is a privilege to me. He further added that the T20 cricket match between Word XI and West Indies is being played for a good purpose in the Lords Stadium, England.

So, he is trying to play his part in this good initiative because such an activity will strengthen his passion for cricket. Shahid Afridi hopes that the audience will enjoy the best cricket match because the players of both the teams are ready to bring their best game to the ground.

Shahid Afridi will now have a chance to become the first bowler to get 100 wickets in the international T20 after taking retirement from international cricket two years before. If Afridi can get 3 wickets in this T20 he will be known as the first player who took 100 wickets in T20 International matches.

The match is being played to raise funds for the restoration of stadiums destroyed by weather storms. As this match will be ranked internationally, so it's the first event where he can make a record after two years of his retirement.

So far, Shahid Afridi has taken 97 wickets from the average of 24.35 in 98 matches when he has won 357.2 overs in T20 International matches. Also Pakistani all-rounder Shoaib Malik will also be a part of this fundraising match.

Update on Pakistani Cricket Team's Next Hurdle

The Second Test match between Pakistan and England will start on Friday, June 1. The victorious guest players, who amazed and astonish the host team in the first test match, have arrived in Headingley and preparing for their next match.

Baber Azam will return to Pakistan due to a wrist injury, which occurred while facing Ben Stokes balling attack. Now he has to wait for 2 months before returning to the field. Fakher Zaman, Usman Saleh-ud-din and Saad Ali are present to take his place. If Saad Ali or Usman Saleh-ud-din are added then the batting line has no need to be changed. On the other hand, the England Cricket Board has announced 12 member squad for Headingley test match.

Lancashire's opener batsman Keaton Jennings has been replaced Mark Stoneman. On the question of dropping Mark Stoneman, the England's selector said that the opening of the 2018 season for the opener was particularly disappointing, while he remained in trouble during the last test match.

That's the reason he was not decided to take part in the Headingley test. On the other hand, the option to include Chris Woakes instead of Markwood. As Woakes made it difficult to score runs for Pakistani batting line up in the England series of 2016. For more news keep visiting our platform.

Related News
---