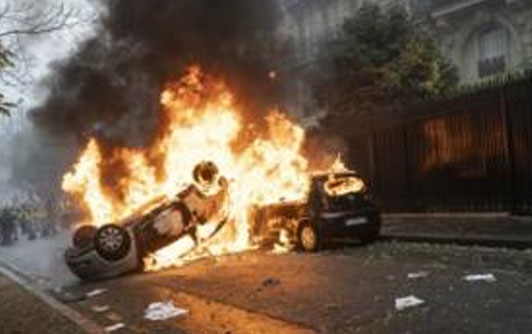 As anti-government riots spread in France, country's Prime Minister Edouard Philippe said that 89,000 policemen will be appointed at Eiffel Tower on Saturday. While armed vehicles will also be deployed other tourist places to keep the peace in the city.

Police has ordered to close the shops near the venue and all the museums in the vicinity. Police said that recently they had seen the worst of riots in Paris. Now, the France Government has announced that it will be eliminating the fuel taxes recently imposed in the country's new budget as per the public's demand.
France Government Asks their People to Calm Down
Government spokesperson told the Agence France-Presse (AFP) that Government will respond strictly to the activists spreading violence. Mr. Philippe said that 8000 policemen has been appointed in Paris along with armed vehicles. He addressed the people and said, "We are asking people to keep calm here, otherwise we shall put them down and will not give them a free hand."

Also read: Conditions After Rainstorms in Paris and Lahore


Earlier PM said that we might give concessions to the rioters and also addressed the senate saying that Government will help the poor and people with lowest income.
Effects on Paris
Eiffel Tower's operator said that it was impossible to control the people rioting and security conditions were extremely poor. Government authorities said that they are taking safety precaution to protect monuments like Arc de Triomphe during such riots. Culture Minister Franck Riester told that Opera house, Louvre and Musée d'Orsay (Orsay museum), Grand Palais and other sites will remain closed due to the possibility of extreme riots.

Also read: Trump Doesn´t Believe his Own Government´s Climate Warning

During an interview to RTL radio the Culture Minister said, "We cannot take a risk when it comes to violence". Police has also asked the restaurants owners to keep their restaurants shut and to remove any items like tables and chairs which are outside the restaurants.
Protests in Other Areas of France
On Thursday, people in large number were seen protesting violently in the streets of the country, protesting about the reforms in education. About 140 people were sent to jail as they were protesting near a school named Mantes-la-Jolie in Yvelines. This protest ended after police got involved in the matter. Many other schools were also closed in cities like Marseille and Nantes including Paris.

Students also faced problems as President Emmanuel Macron delayed the baccalaureate exams, which are qualifying test to gain admission in Universities. For more international news keep frequenting our website as much as you can.
Related News
---