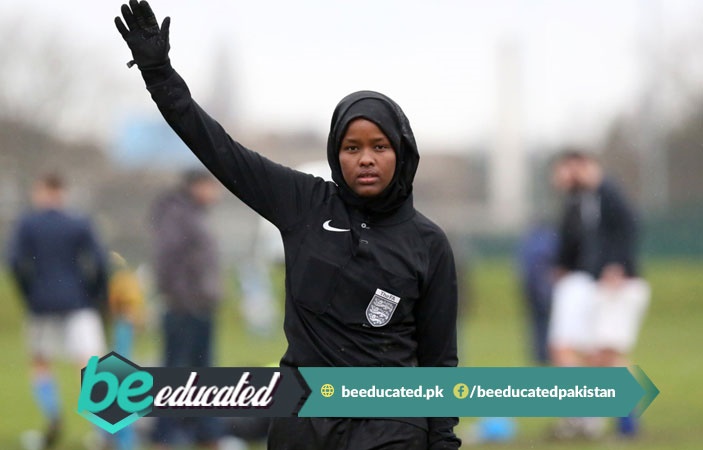 Jawahir Roble, a 24 year old Muslim girl, has made football history after becoming the first female Muslim football referee. According to international news reports, she has become the first ever Muslim femal referee in United Kingdom. She belongs to a Somalian family that moved to UK when she was a child. Also, she got the opportunity to oversee an important football match in her home country because she received training from the Britain's Football Association to become a capable referee.

BeEducated.pk found out the first time Jawahir supervised a match, the players could not believe that she was the referee. She told the media that when she went out on the ground she could hear boys giggling and saying that there's no way she could be the ref.

She further added that they knew she was the referee because she was wearing her full official kit. She happily said that she has faced no bad remarks from the players until now. Also, she appreciates the fact that no one has told her to go home or told her she didn't belong on the football field.

Remarks on the Internet About the Female Muslim Football Referee

During matches Jawahir Roble (better known as JJ) has not faced any comments on her being a Muslim female referee but over the internet it's a completely different story. Because many people have told her that she is not following her religion properly and her culture.

On that matter JJ told the media that she knows that football is not in her culture, but she wants to break such barriers and stereotypes to let people know that girls can do anything. She added that girls can play football or become referee. She also said that her religion is a part of hers and she loves it.

Becoming a Role Model for Other Girls

Jawahir just want to encourage other girls and all the youth to participate in the football sport. As she grew up playing the sport herself back in Somalia and aimed to become a football referee after studying for coaching badges as a teenager in the United Kingdom. She used to volunteer for local matches whenever they wanted more match officials.

After refereeing for matches in a girls football league she has not thought of becoming anything other than a referee. Jawahir also said in her interview that she has the support of her parents and players that play in the matches so they help her aim for her goals. In the future she hopes to referee matches in the UEFA Champions league, for which the latest final was played on 26 May. For more news and updates keep on visiting BeEducated regularly.

Related News
---