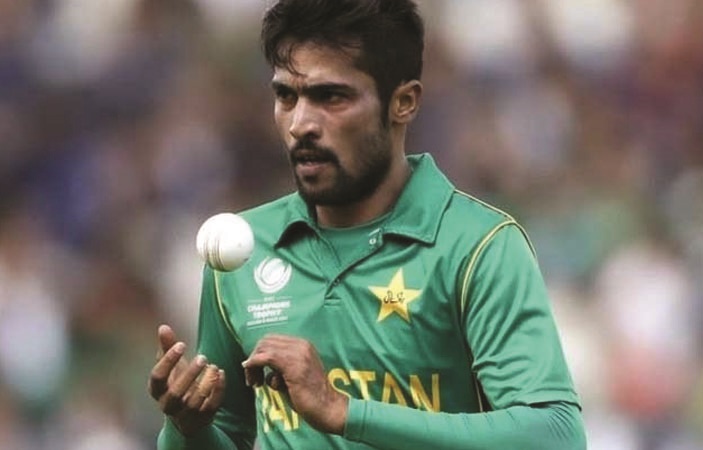 Pakistan Cricket Bowling Coach Azhar Mahmood asked fast bowler Mohammad Amir "to do more" with the new ball.
Amir is Performing Poorly due to Fitness Problems
Azhar Mahmood has been trying to put a curtain over Amir's poor performance and fitness issues using his 5 year absence from cricket and drop catches, but it's already been three years since the pacer, who went to jail for match fixing, have come back to the field.

Also Read: "Australia prepares itself for the spin war with Pakistan"

Bowling coach said that during the tour of Ireland and England, Amir had some fitness problems but due to our physiotherapist's effort he is feeling much better. He was able to play the three tests for the same reason, however he needs to improve his fitness.
He said that we should all keep in mind that Amir has returned to international cricket after five years of absence and all of us are trying to improve the his fitness level.
Amir Needs to Strike With the New Ball
Azhar Mahmood said that there is no doubt that the fast bowler is quite talented but he needs to do more to strike with the new ball. Unfortunately, some catches were dropped on his bowling attack as well. We want him to be more effective at the start of the innings. If he keeps striking with a new ball consistently, then the pressure on the other bowlers will be much less and they will also be able to perform better.

BeEducated.pk found out that Azhar Mahmood said that there is a problem in the wrist position of Amir, which we are trying to remove, hopefully he will come out as a different and effective bowler after a month's time.
Bowling Coach Talks About Mohammad Hafeez
Talking about Mohammad Hafeez, the Pakistan bowling coach said that no one could point fingers on his capabilities but team management thinks we need to move forward with young players. So we have made Hafeez as the backup opener batsman for Imam ul Haq.

The young opener has scored 4 centuries in 9 ODI matches, as he is a good player Imam-ul-Haq cannot be dropped. Along with that team management also wants to see where the team stands before the Cricket World Cup. Therefore, no other reason exists for letting Hafeez sit out on the Zimbabwe tour of Pakistan, where Fakhar Zaman scored double century in One Day International matches. For more news on sports keep visiting our platform as much as possible.
Related News
---