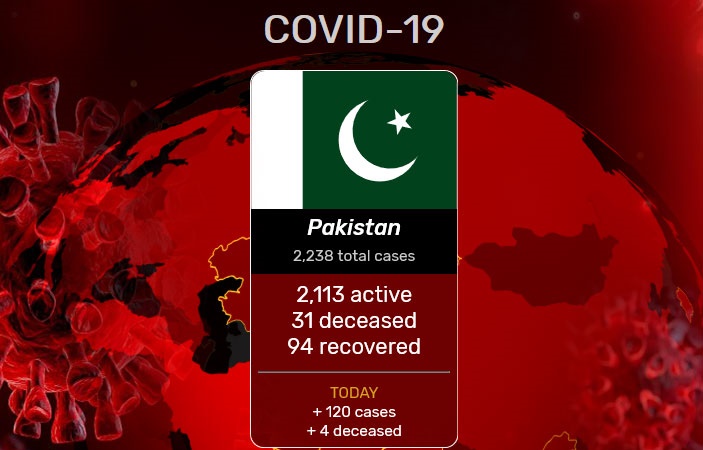 Nationwide, Pakistan COVID-19 confirmed cases rose to 2,200, global coronavirus death toll pass through 47,000

By beEducated.pk Updated Thursday, April 2, 2020

KARACHI / LAHORE / QUETTA / ISLAMABAD / PESHAWAR: The number of confirmed Coronavirus cases in Pakistan goes past 2,245 on Thursday, after new infections were found in the country.

The province-wise break up of the total number of confirmed cases as of 10:00 A.M, April 2, is as follows:

Total confirmed cases: 2,245

• Punjab: 845

• Sindh: 709

• Khyber Pakhtunkhwa: 276

• Gilgit-Baltistan: 184

• Balochistan: 164

• Islamabad Capital Territory: 58

• AJK: 9



Total Confirmed Deaths of Coronavirus Pakistan: 30

• Punjab: 10

• Sindh: 9

• Khyber Pakhtunkhwa: 8

• Gilgit-Baltistan: 2

• Balochistan: 1


Globally, more than 47,000 deaths from the virus have been reported so far, of which most are Europe since the disease first case emerged in December.

Meanwhile, more than 936,000 cases of the virus have been recorded in 203 countries and territories.

Coronavirus confirmed cases in the USA reach over 215,000; and currently the epicentre of Coronavirus.
The mortality rate in Europe is high as 47,000: and in Italy, 13,155 deaths out of 110,574 declared infections, Iran with 3,036 deaths out of 47,593 affected cases, Spain with 9,387 deaths out of 104,118 active cases, China with 3,312 deaths out of 81,554 affective cases, mortality rates are on the peak in Italy, while active cases are high in the USA since the virus first come out in December.

More than 936,170+ declared virus cases have registered, the actual amount is more than that and it's now spread in 203 countries and at least 694,343 are active cases in Europe, worst-hit continent.
READ MORE: Coronavirus Helpline Number in Pakistan

Read more information on this web portal about the latest updates of Coronavirus in Pakistan and around the world.

Disclaimer: There can be some variation in the total number of confirmed cases recorded at the country level. These figures are according to provincial and federal authorities.

BeEducated.pk is constantly gathering fresh and accurate information from concerned authorities and give their best to keep our readers up to date with the most correct information.
Related News
---