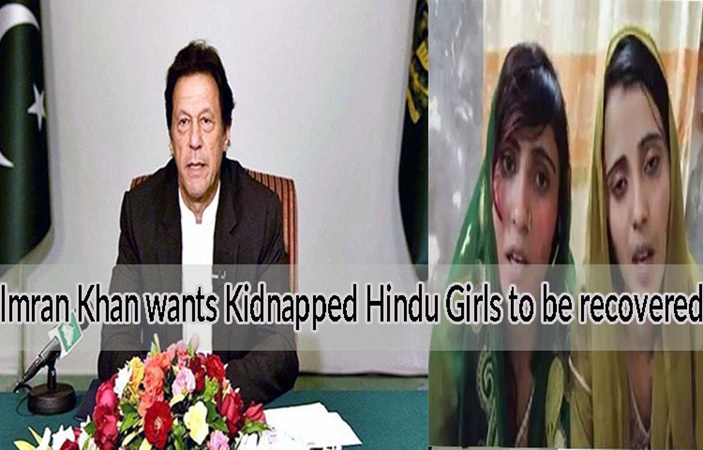 In Lahore, Prime Minister Imran Khan has issued immediate steps to recover the two Hindu girls abducted and forced to praise Islam.

The Government of Pakistan Tehreek-E-Insaf (PTI) stands with the community of Hindu on the abduction of two Indian girls in Sindh.
The incident was highlighted when the brother and father of the girl's full-hearted pleas on social media, that the sisters were kidnapped from Ghotki, and forcefully were converted into Islam.

The Minister said "As soon the issue was highlighted on social media, Prime Minister Imran Khan took immediate notice and directed the governments of Sindh and Punjab to coordinate on the matter, while Ministry of Human Rights is also working on the issue, the governments of Sindh and Punjab to adopt a joint strategy to prevent such incidents in future."
Read More News: Imran Khan Announced to Release The Indian Pilot
In a news conference, The Minister said the girls were kidnapped from Sindh and reportedly taken to Rahim Yar Khan, and then to Gujranwala. The Sindh police had made some arrests, while we are trying our best to rescue the girls.
"The white colour in the national flag represents minorities, and the sanctity of the flag can only be maintained when the white is equally respected along with the green," he said, quoting the Prime Minister. "The PTI government under the leadership of Prime Minister Imran Khan is transforming Pakistan into Quaid-e-Azam's Pakistan — where minorities are secure and all the citizens have equal rights."
In a twist of events, the sisters reached the court in Bahawalpur on Sunday and sought protection from their family, seemingly contradicting their family's claims that they were kidnapped, forcefully converted to Islam, and wedded off under age. In a separate viral video, the girls are saying they accepted Islam by their own concern and looked relaxed.
Read More News: Israel behind the Pakistan and India quarrel
Related News
---