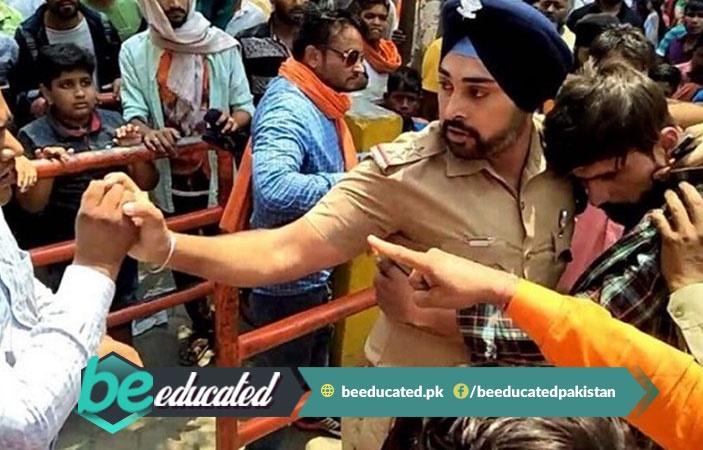 In India, a Sikh police officer set an example of humanity after saving a Muslim boy from aggressive Hindus at a Hindu temple. Everyone knows that these scenes can be seen in movies but in real life it's very hard to do what this Indian Sikh official did. According to sources, the incident took place in a secluded area under 15 km from Ramnagar in the Indian state of Uttarkand.

Video of Sikh Official Saving the Muslim Boy Goes Viral

BeEducated.pk wants you to know that according to Indian police, a Muslim boy came to meet his Hindi friend in the temple. Then after some time the local people surrounded them and accused the Muslim boy of acting inappropriately with his female friend, at which someone called some Hindu extremists that started hitting the boy upon their arrival.

After receiving a report of the matter Indian police reached the spot and started to disperse the gathered crowd. As one Sikh sub inspector tried to take the boy away from the crowd, Hindu extremist started to attack the Muslim boy once again.



The Sikh official became a shield for the Muslim boy against the Hindu extremists. As soon as the attack started the Sikh officer, without caring for his religion or the boy's, showed his belief in humanity and became a shield for the boy. He bravely took the boy in his arms and safely guided him out of the crowd.

The Boy Was Safely Escorted to the Police Station

The young boy and girl were then taken to the police station, after which they were sent home with their parents.

The Police department gave the Sikh officer a reward of INR 2,500 (Indian rupee) for his bravery and humanity. Also, with the help of the video five attackers were identified and a case against them has been filed.

Indian Police have appealed to the public to not spread the video on social media website to cause a Hindu Muslim feud. Hopefully all Indian people will start showing humanity like the Sikh police officer did towards the Muslim boy, so every Muslim can live there in peace. To get latest news make sure to visit our website daily.
Related News
---