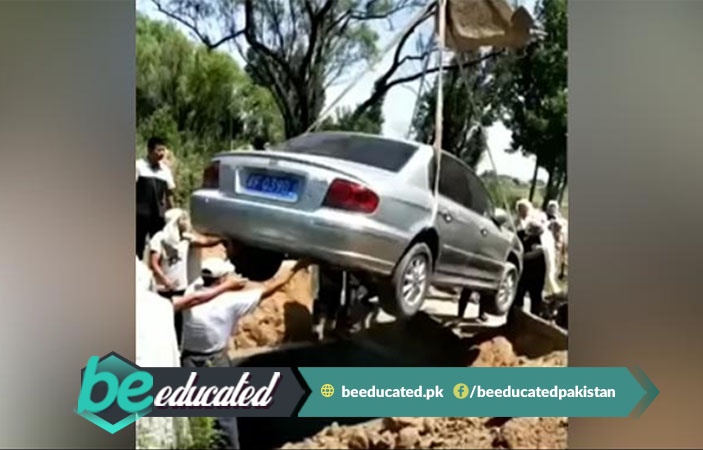 A Chinese villager in northern china was buried with his car instead of a coffin. According to various sources, he made the special request in his will.

The Car Loving Man from China

BeEducated.pk found out that a man identified by his surname Qi, had asked to be buried inside his silver Hyundai Sonata when he died. He wrote a special request to his family in his will. His final wish was granted as the car can be seen lowered into the grave in the video below.



Villagers helped to steady the vehicle into the pit. The unconventional burial amused everyone. The grave was especially dug to fit the Sonata and was seen held in place securely with cement plates on its sides.

In the video above, the car is hanging by ropes from an excavator as it is slowly lowered into an oversized grave. After the car was placed carefully into the grave, the excavator filled the hole with soil.

The Man Loved Cars since Childhood

An unnamed villager says "It was in his will that said his corpse didn't need a coffin but to use his car to bury him" – "He liked cars since he was very young."

Many have speculated as to what would happen if the car were one day dug out. According to someone it will go like this: "A thousand years on, a museum commentary can say, this is an ancient means of transportation – extremely slow, it can only go at 100km an hour."

Many people in the old days wanted to be buried with their wealth and worldly treasures. So being buried in the car can indicate that this Chinese man wanted to be buried with his most precious treasure. For more interesting news keep visiting our platform.

Related News
---