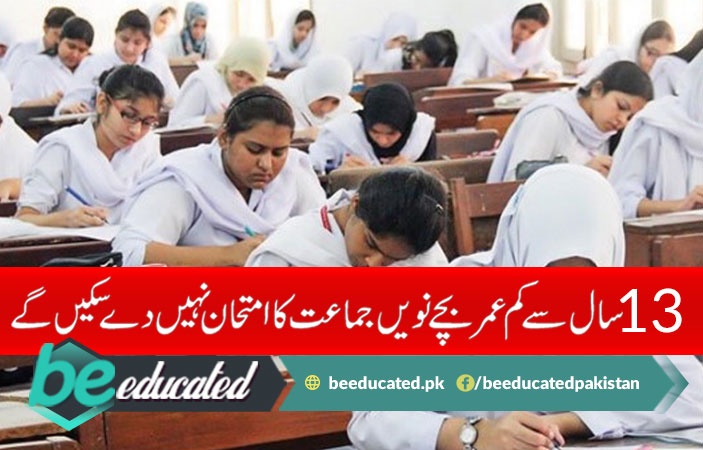 Matriculation in Pakistan sets the future path of every student. So, parents tell their children to work hard and study so they can get good marks in the Matric Examinations. But yesterday, on 13th March 2018, students of 9th class in Lahore received this news:
"Any student younger than the age of 13 will not be issued Roll Number Slips!"
Isn't that a news which will crush the dreams of hopeful matriculates?
Students who are soon going to turn 13 years of age will find it very difficult to accept this ruling against them. Yes, we know pushing a child to his/her limit can be bad but students exist in Pakistan who can achieve much more than expected of them despite their young age.The days of 9
th
class examinations are close by, and to check the
Date sheet of 9th class 2018
go to our 'Date Sheets' section.
Is it really a choice? Should we limit the students of their learning and achieving capabilities?
Everyone including the
400 underage students,
who
are not getting their roll number slips this year,
will find it hard to accept this age limit. It is not the accurate way to impose an age limit, as some students younger than 13 can be smart enough to clear SSC part 1 exams and even higher levels. The authorities should take notice of the situation as it is completely unfair to bright students who are younger than 13 years of age.
Parents want to know why their completely able child should not be permitted to take the 9th class annual examinations just because he/she younger than 13 years. If the parents and child thinks he/she is ready to appear for the SSC Part 1 exams then the concerned authority (PEC) should allow them according to their wishes.
What's the worst that can happen?
A student can only fail their exams, God forbid, and then might have to appear once again in the next year for 9th class examinations. There is nothing that bad about it. Just in case you are looking for
9th Class Past Papers
visit our 'Past Papers' page. Students should be encouraged from a young age to achieve the impossible, by keeping their minds open to new possibilities and opportunities. If we are going to limit our young generation in such a way then it will only leave Pakistan far behind, than other countries, in the global race of progress.
The
Punjab Examination Commission
should make a plan for future Matric class examinations, where students appearing for the particular exams can be interviewed or reviewed before being declared ineligible for appearing in the annual 9th or 10th class examinations.
As PEC is responsible for the supervision of organizing, commencement and controlling of exams in all districts of Punjab, they should not just review such cases for 9th or 10th class but for primary, middle and higher secondary classes as well. For the parents are always trying for their children to attain knowledge, and degrees, in as less time period as possible.
BeEducated.PK
is always striving to raise a voice in the hope of furthering the development of education in Pakistan. And we will keep on doing so in the future as well. Keep visiting our site for latest updates and news relating to education in Pakistan. We provide all types of helpful material for each and every class appearing for board exams from primary (5th) to higher secondary (12th).
Related News
---